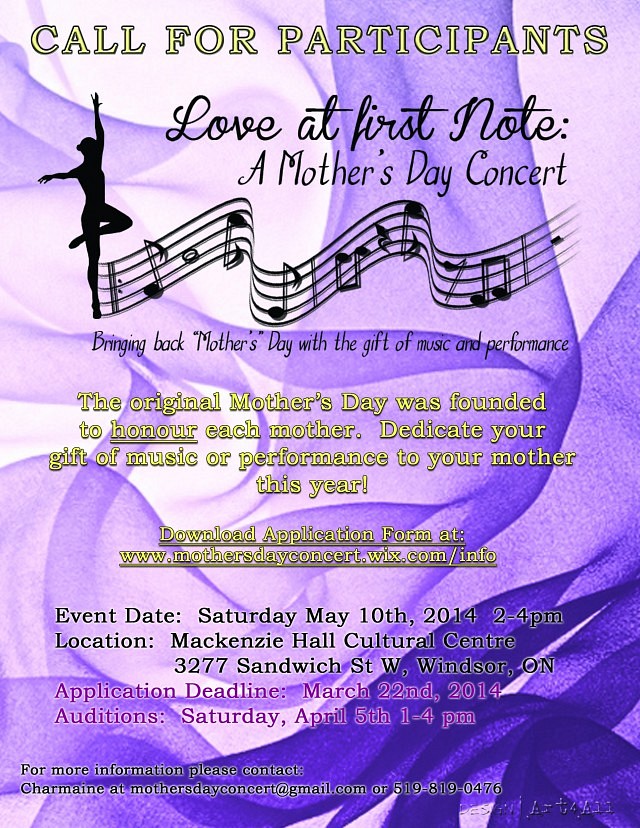 PLEASE SHARE *CALL FOR PARTICIPANTS* – Deadline 3/22
LOVE AT FIRST NOTE: A MOTHER'S DAY CONCERT
This first annual Mother's Day Concert invites recognized performing artists of all ages throughout Windsor and Essex County to showcase their talent in dedication performances to their mothers. We are looking for dancers, musicians, actors, poets, … you name it!
In recent history, the holiday has been overly exploited by commercial enterprises using it as an occasion for sales; This concert is intended to resurrect the original intent of the Mother's Day founder, which was to honour mothers, with the "gifts" being dedication performances by the concert's participants.
The event will also present an important opportunity to realize the City of Windsor's Municipal Cultural Master Plan, by promoting "the local creativity and vibrancy of the cultural community through encouraging artistic expression and celebrating the City's cultural identity and diversity".
EVENT DATE: Saturday, May 10, 2014 2-4 pm
LOCATION: Mackenzie Hall, 3277 Sandwich St W, Windsor, ON
MORE INFO & APPLICATION FORM @ www.mothersdayconcert.wix.com/info
Location
Mackenzie Hall
3277 Sandwich Street West
Windsor, Ontario