Date
Saturday July 27th, 2019
Time
11:00am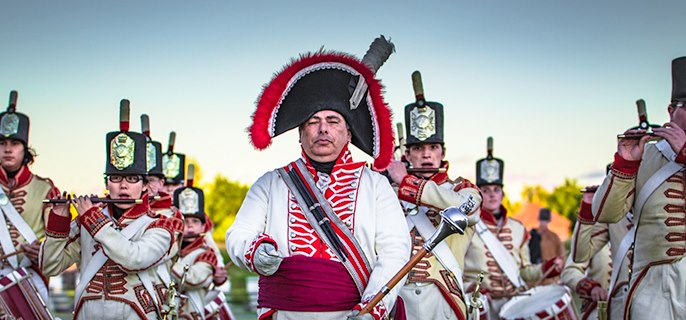 Live music by the 41st Regiment Fife and Drum Corps from Fort George National Historic Site at Fort Malden National Historic Site
Tap your toes to the beat of marching tunes as the 41st Regiment Fife and Drum Corps from Fort George National Historic Site in Niagara-on-the-Lake pays a visit to Fort Malden National Historic Site.
Hear 18th and early 19th century music including the pre-dawn reveille bugle wake-up call, the opening notes of the corps' daily job as the fort's clock, and timekeeper for soldiers' routines.
Learn how the Fife and Drum Corps were an essential low-tech walkie-talkie with the high-pitched fifes and low-pitched drums sending musical signals across great distances to direct artillery, cavalry and troops on a chaotic battlefield.
The Fife and Drum Corps is a fan favourite in Amherstburg and Fort Malden, and it is always a pleasure to hear the shrill of the fifes and feel the booming drums.
Experience date
Performances on Saturday, July 27, 2019, at 11:30 am, 1:30 pm, and 3:30 pm.