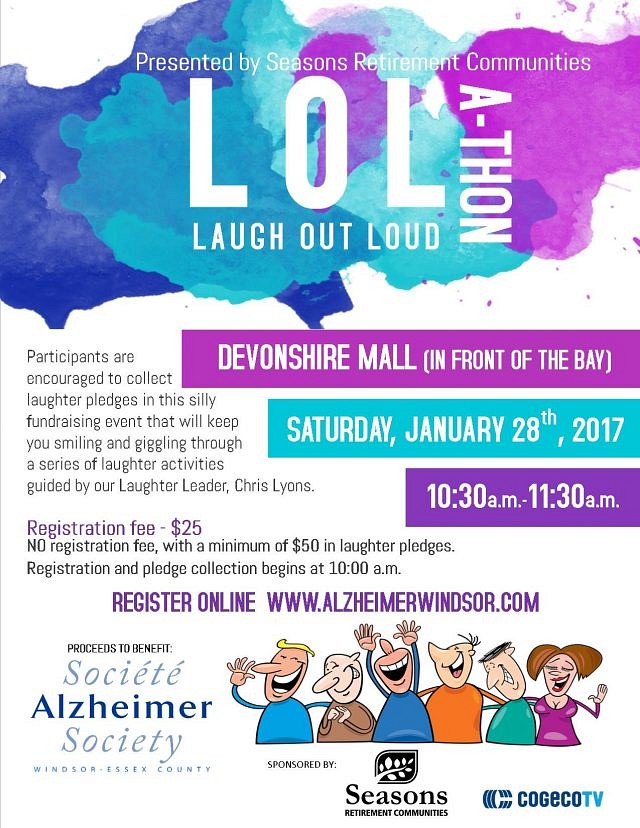 Join us for an hour of silly fun where participants are guided through several chuckle-inducing activities led by Windsor's own Laughter Leader, Christopher Lyons. The activities are simple and easy to follow so guests of all ages and abilities are welcome!
Laughter benefits your physical health, your mental health, and has many social benefits. Here's what our support group clients had to say after their first laughter experience.
All proceeds will benefit the Alzheimer Society of Windsor & Essex County. Event participants are encouraged to collect pledges from their family, friends, and co-workers in exchange for your participation and your laughter.
Registration fee is $25 or a minimum of $50 in laughter pledges. Visit www.alzheimerwindsor.com to register today!
For more information about this fun and silly laughter event, or for registration assistance please call Sarah at 519-974-2220, ext. 237.
Location
Devonshire Mall (in front of Hudson's Bay)
3100 Howard Ave
Windsor, Ontario