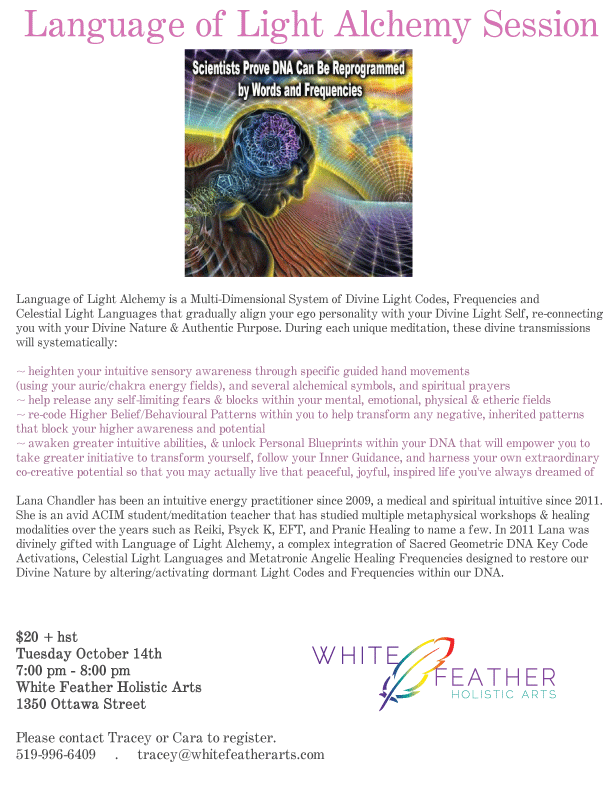 Tuesday, October 14th
7pm – 8pm
Language of Light Alchemy is a Multi-Dimensional System of Divine Light Codes, Frequencies and Celestial Light Languages that gradually align your ego personality with your Divine Light Self, re-connecting you with your Divine Nature & Authentic Purpose. During each unique meditation, these divine transmissions will systematically:
~ heighten your intuitive sensory awareness through specific guided hand movements (using your auric/chakra energy fields), and several alchemical symbols, and spiritual prayers
~ help release any self-limiting fears & blocks within your mental, emotional, physical & etheric fields
~ re-code Higher Belief/Behavioural Patterns within you to help transform any negative, inherited patterns that block your higher awareness and potential
~ awaken greater intuitive abilities, & unlock Personal Blueprints within your DNA that will empower you to take greater initiative to transform yourself, follow your Inner Guidance, and harness your own extraordinary co-creative potential so that you may actually live that peaceful, joyful, inspired life you've always dreamed of
Lana Chandler has been an intuitive energy practitioner since 2009, a medical and spiritual intuitive since 2011. She is an avid ACIM student/meditation teacher that has studied multiple metaphysical workshops & healing modalities over the years such as Reiki, Psyck K, EFT, and Pranic Healing to name a few. In 2011 Lana was
divinely gifted with Language of Light Alchemy, a complex integration of Sacred Geometric DNA Key Code Activations, Celestial Light Languages and Metatronic Angelic Healing Frequencies designed to restore our Divine Nature by altering/activating dormant Light Codes and Frequencies within our DNA.
$20 + hst
White Feather Holistic Arts
1350 Ottawa Street
Please contact Tracey or Cara to register.
519-996-6409 . [email protected]
Location
White Feather Holistic Arts
1350 Ottawa Street
Windsor, Ontario