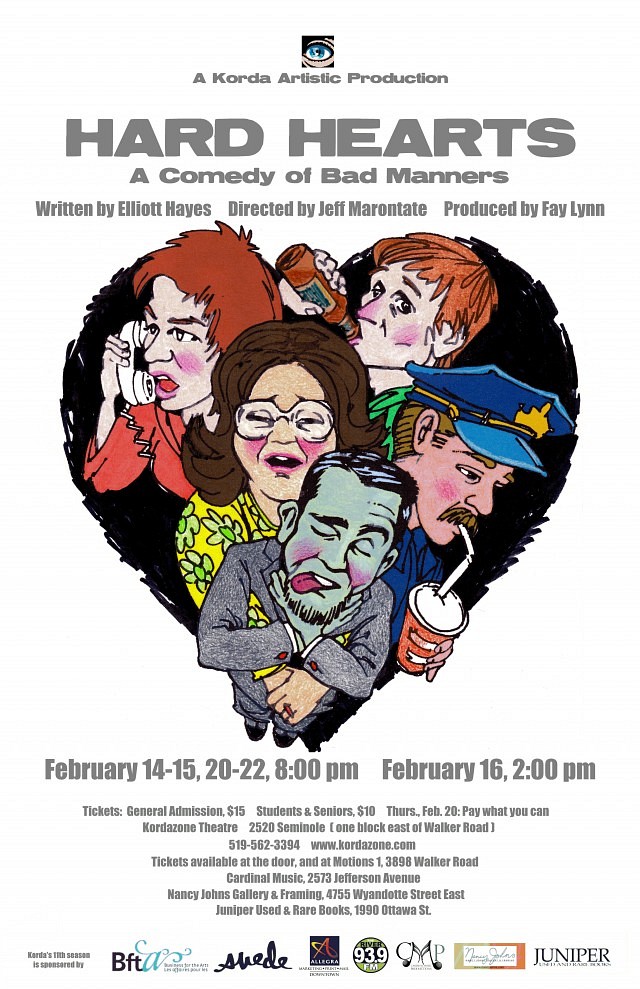 Korda Artistic Productions' 2014 Season begins with
HARD HEARTS
Written by Elliott Hayes.
Directed by Jeff Marontate.
Produced by Fay Lynn.
FEBRUARY 14,15,16, 20,21 & 22 2014.
Evening Performances at 8:00 PM
Sunday Matinee at 2:00 PM
Thursday February 20 – 'Pay What You Can'
"A comedy of bad manners."
– Jeff Marontate, Korda Resident Director
This dark Canadian comedy tells the story of a recently divorced classics professor who brings home from a bar a man who thinks he's being picked up. After realizing that he's actually been invited for a beer and nothing more, the man unexpectedly and accidentally dies. The professor's ex-mother-in-law shows up at the door with an announcement: she's killed her cheating husband. February 2014 marks the 20th anniversary of Elliott Hayes' death. He was Stratford Festival dramaturge in the late 80s, and a friend of directed Jeff Marontate.
TICKETS
$15.00 – General Admission
$10.00 – Students & Seniors
BOX OFFICE
To purchase or reserve tickets to the show by call Tracey at 519-562-3394
THE CAST
Dan MacDonald
Joey Wright
Fay Lynn
Michele Legere
Adam Giles
SHOW SPONSORS
Business for the Arts artsVest Windsor
Suede Productions
Allegra Print + Mail Downtown Windsor
The River 93.9 FM
Cardinal Music
Nancy Johns Gallery & Framing
Juniper Used & Rare Books
Location
The KordaZone Theatre
2520 Seminole Street
Windsor, Ontario