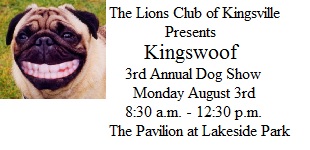 Enjoy a morning of tail-wagging good fun. A Fun/Family event with demonstrations, trophies and prizes.
Competitions include: Chest Closest to the Ground, Best Coat, Most Unusual, Longest Tail, Most Appropriate Name, Most Obedient, Most Disobedient, Looks Most Like Master, Performs Best Trick, Biggest Teeth, Sings the Loudest, Best Outfit, Healthiest Weight and Most Unusual Colour. Trophies are presented for BEST IN SHOW and Runner Up.
Presented by The Kingsville Lions Club in support of the Lions Foundation of Canada Dog Guides and Leader Dogs for the Blind.
Registration begins at the park at 8:30 a.m. Registration is $5 per dog entered. Bring lawn chairs. 315 Queen Street, Kingsville, ON N9Y 1Y8
For more information: [email protected]
Location
The Pavilion at Lakeside Park
315 Queen Street
Kingsville, Ontario