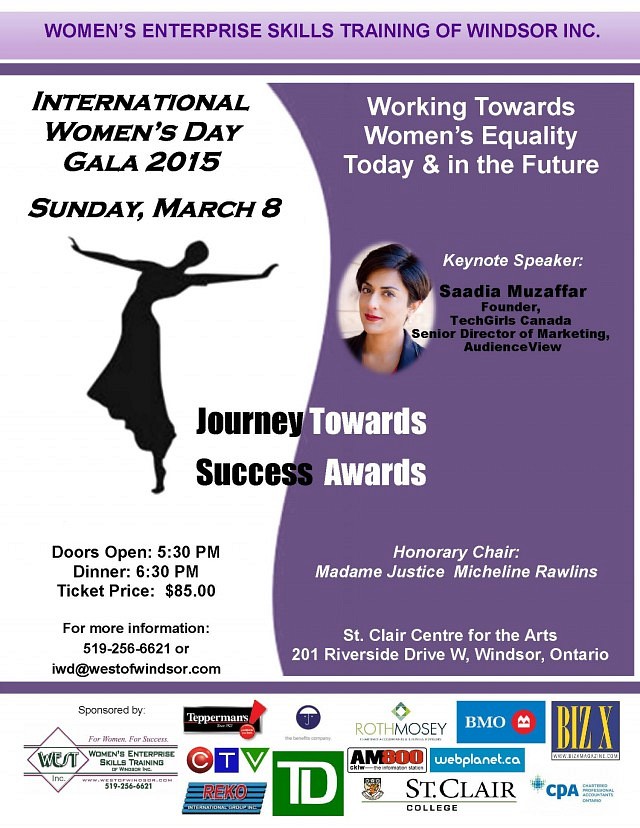 Windsor, ON – Women's Enterprise Skills Training of Windsor Inc. (WEST) will be celebrating our annual International Women's Day Gala on Sunday March 8th, 2015 at St. Clair Centre for the Arts.
WEST's IWD Gala will be an opportunity to commemorate our participants, businesses and community partners within the Windsor & Essex County area, who demonstrate a commitment to embracing diversity in our community. This year theme is "Working Towards Women's Equality Today and in the Future." The event will highlight the accomplishments achieved by women in the past, present, and future; advancing women further towards equality.
During the event, WEST will recognize Journey Towards Success Recipients. The Recipients are WEST clients, who have gone on a challenging journey and been successful in achieving their goals, as well as Community Partners that have demonstrated a belief in the WEST mission and continue to actively support women on their journeys toward success.
WEST is pleased to announce Saadia Muzaffar as the Keynote Speaker for our IWD Gala 2015.
Tickets are $85 person and includes a full dinner. If you would like to purchase a ticket, please contact us at 519.256.6621, or via email at [email protected] Also, tickets can be purchased through Eventbrite ( link provided on website).
Location
St.Clair Centre for the Arts
201 Riverside Drive West
Windsor, Ontario