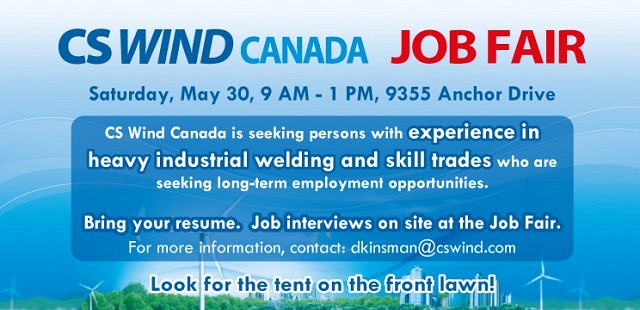 CS Wind Canada has career opportunities available at its facility in Windsor, Ontario. The company is seeking people with experience in heavy industrial welding and other skilled trades.
To find the best candidates available, CS Wind is holding a Job Fair in a tent on the front lawn of their facility at 9355 Anchor Drive on Saturday May 30th from 9 a.m. until 1 p.m.
CS Wind Canada's newly appointed Director of Corporate Affairs Jeff Heath says, "Building on the success the company has experienced since it began producing wind towers in Windsor-Essex nearly four years ago, we are hoping to identify employees seeking long-term careers in this dynamic field. CS Wind Canada has close to 500 employees at our Windsor operation, and we are looking to hire 15-25 heavy metal welders as soon as possible – thus the reasoning behind the job fair. We want to meet serious candidates face-to-face, and interview them right away rather than have them wait."
Potential candidates for these positions are asked to bring their resumes to the job fair. Interviews will be conducted on the spot.
For more information contact the Manager of Human Resources, Donna Kinsman: [email protected]
Location
CS Wind
9355 Anchor Drive
Windsor, Ontario