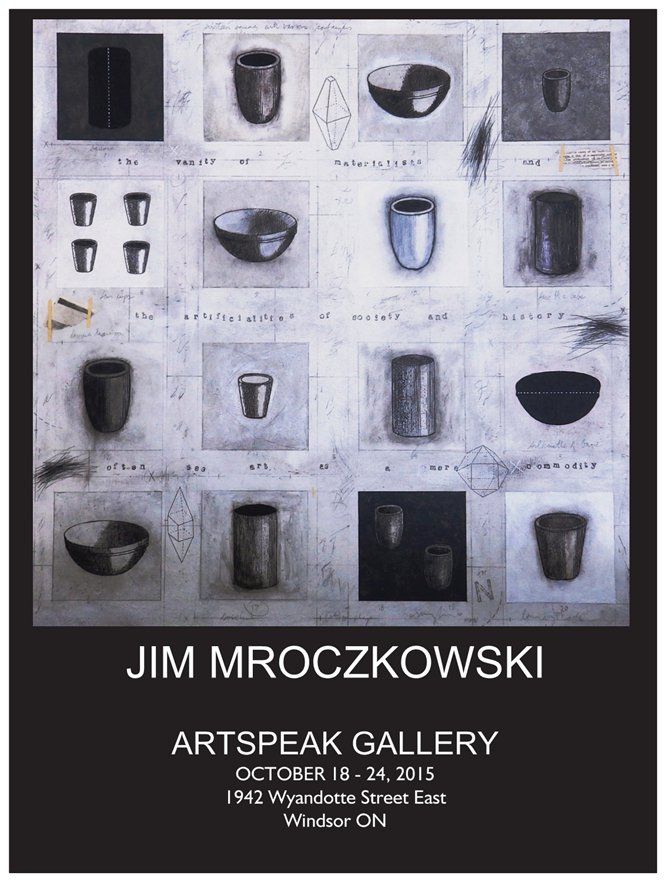 Jim Mroczkowski has been exhibiting as a professional artist for over forty years. During that time he has also has been collecting the works of other artists, principally photographers whom he has admired.
Well known for his enigmatic and cryptic mixed media drawings and paintings based on randomly selected text, Mroczkowski has continuously examined and explored new avenues in deconstructing the meaning of personal insight and the reconstitution of recollections and remembrances through metaphor and association. Based on traditional still life, landscape and portrait imagery, the Windsor–based artist presents us with frequently dichotomous compositions that mystify and abrogate these formal academic classifications. By means of competing sets of ideas and visual constructs including recognizable and hidden iconographies, Jim Mroczkowski questions the notions and rigors of identity, history and reality, faith and belief, and emotional, psychological, as well as intellectual awareness. All of this is filtered through his own aesthetic consciousness and referenced through the objects he has collected or created out of desire, need, want, or compulsion.
Not surprisingly, the art and photographs that he has been acquiring along the way are also framed within this personal yet universal perspective.
In this intimate gallery space, Jim Mroczkowski has chosen to display a small selection of his black and white photographic acquisitions in concert with a number of his own achromatic works. Additionally, several of his larger paintings created over the last few years are also included. Through deliberate contrasts of size, scale, color and media, the works in the exhibition invite both very close inspection and more distant stances to access their interpretation, intention and impact.
ARTSPEAK GALLERY is located in Walkerville at the Arts Council Windsor & Region office location at 1942 Wyandotte Street East.
Exhibition hours are 1 – 5 pm Monday through Saturday.
A meet and greet with the artist is scheduled for Sunday October 18th from 2 – 4 pm with an artist talk at 3 pm.
Location
ARTSPEAK Gallery
1942 Wyandotte St. East
Windsor, Ontario