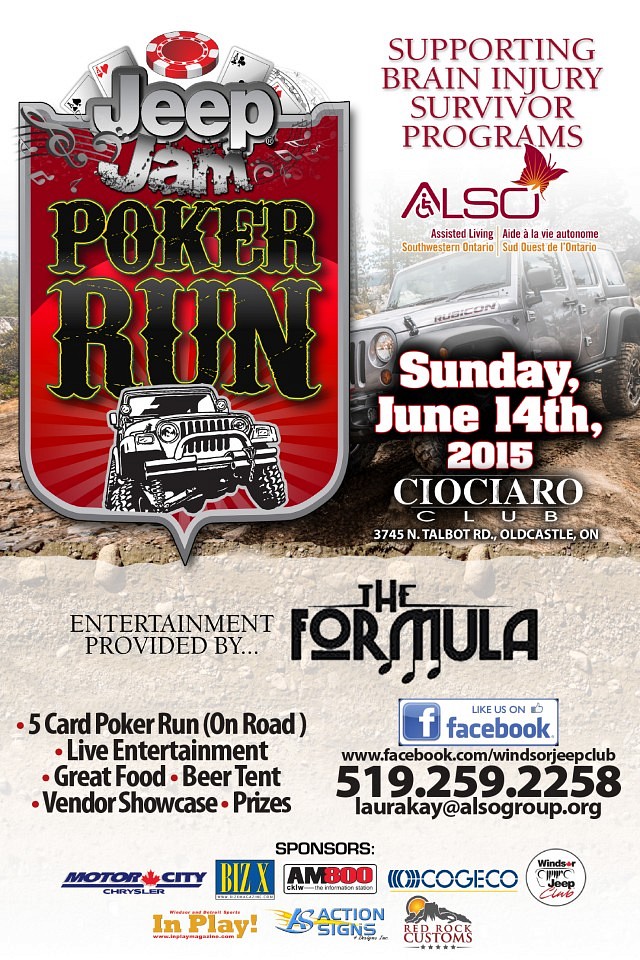 The Jeep Jam Poker Run is a great day of fun all in support of brain injury survivor programs provided through A.L.S.O. (Assisted Living of SW Ontario)
This years event will be held on Sunday, June 14th. @ The Ciociaro Club.
How it works:
We all meet at 10am at the Ciociaro Club. Drivers will check in to receive their registrant kit. Inside this kit you will receive a scorecard, map, and an itinerary of the days events.
At approx. 11am we line up the Jeeps and depart the Ciociaro Club in Ontario's largest Jeep Convoy! We travel throughout Essex County and at each stop (TBA) you will pull a playing card out of a bag, your card will then be documented on your score card for you. Your last stop is back at the Ciociaro Club. This is when the after party begins. You will pull your last card and then our Pit Boss' will tally up your "poker hand". Please note that YOU DO NOT NEED TO KNOW HOW TO PLAY POKER.
There will be a opportunity to buy up to 2 more poker card pulls to get your absolute best poker hand. The best poker hand wins the grand prize (approx. value $1400). There are also prizes for second best and the worst hands too.
The Jeep Jam includes LOTS of opportunities to WIN PRIZES!
Prize Categories include:
Best Poker Hands
Worst Poker Hand
Pledge Leader – (brings in the most money to donate)
Pledge sheet participant prize – (everyone who hands in a pledge sheet is put into a draw for a prize)
Most "Bad Ass" Jeep
People's Choice Award for Best Jeep
Best Dressed Team Award – (encourage your passengers to dress up)
Lots of games this year too! Games cost $1-$2
Passengers can purchase a Poker Scorecard with a $20 donation so they can play along with you.
FUN, FUN, FUN!
Activities include:
5 Card Poker Run (On Road)
Live Entertainment
Great Food
Beer Tent
Contests
Games
Vendor Showcase
& Lots of Prizes!
All monies raised will support local programs that help brain injury survivors!
Registration has begun and the spots are filling up quickly! Please make sure you register ASAP to guarantee your spot.
By Mail:
*Print off Registration Form (in photo section of this page)
*Complete form & Enclose a Cheque made out to A.L.S.O for $20.00
*Mail to:
A.L.S.O
Jeep Poker Run
Attn: Laura Kay
3141 Sandwich St.
Windsor, ON, N9C 1A7
Remember $100+ in pledges = Free Registration!
We will be having a few pre registration nights leading up to the event if you would rather come out in person to register. Next one is Wednesday, May 13th at 6pm at Average Joes on Lauzon, Windsor.
Location
The Ciociaro Club
3745 North Talbot Road
Windsor, Ontario