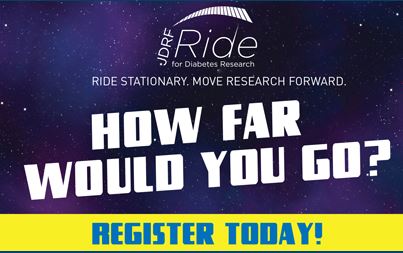 The Ride is a stationary bike-a-thon in support of JDRF and life changing research into a cure for Type 1 Diabetes.
This corporate fundraiser involves teams of 5 riders that take turns riding a stationary bike for 7 minutes each.
The event gives you the opportunity to face off against your competitors, during sector challenges such as Battle of the Banks and the Tech Sector challenge. It also acts as a fun and unique team building exercise for you and your coworkers!
There will be prizes awarded for different achievements such as, most KM biked, best dressed team, the most team spirit, the best dance moves and more!
Join us under the big tent for live music, a delicious lunch, and a party atmosphere that will rock your socks off – all for one amazing cause!
If you and your company are looking for a fun and exciting way to show your community spirit, this is your event! Contact Sharon for more information on how you can help us knock type 1 diabetes, right out of this world!
Location
Devonshire Mall
3100 Howard Avenue
Windsor, Ontario