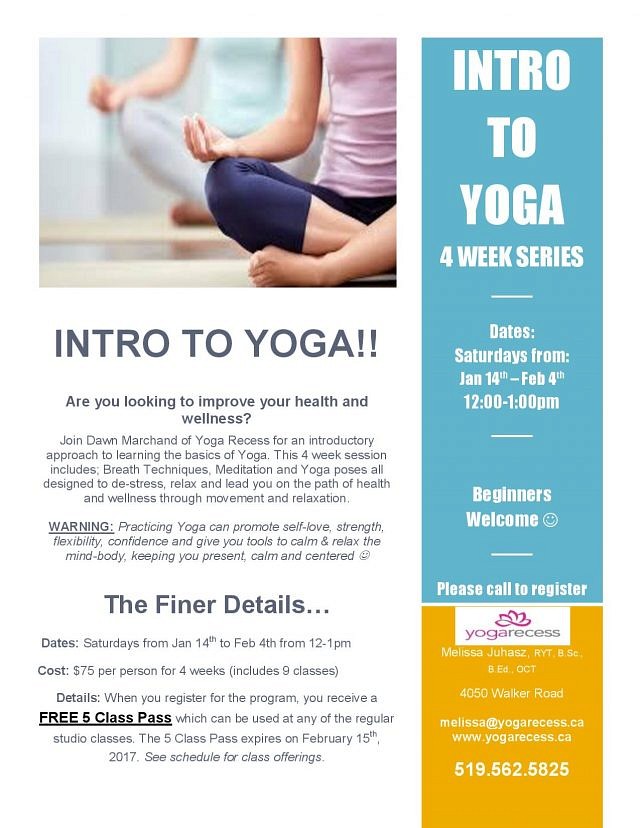 Are you looking to improve your health and wellness?
Join Dawn Marchand of Yoga Recess for an introductory approach to learning the basics of Yoga. This 4 week session includes; Breath Techniques, Meditation and Yoga poses all designed to de-stress, relax and lead you on the path of health and wellness through movement and relaxation.
WARNING: Practicing Yoga can promote self-love, strength, flexibility, confidence and give you tools to calm & relax the mind-body, keeping you present, calm and centered 
The Finer Details…
Dates: Saturdays from Jan 14th to Feb 4th from 12-1pm
Cost: $75 per person for 4 weeks (includes 9 classes)
Details: When you register for the program, you receive a FREE 5 Class Pass which can be used at any of the regular studio classes. The 5 Class Pass expires on February 15th, 2017. See schedule for class offerings.
Location
YOGA RECESS
4050 WALKER ROAD
Windsor, Ontario