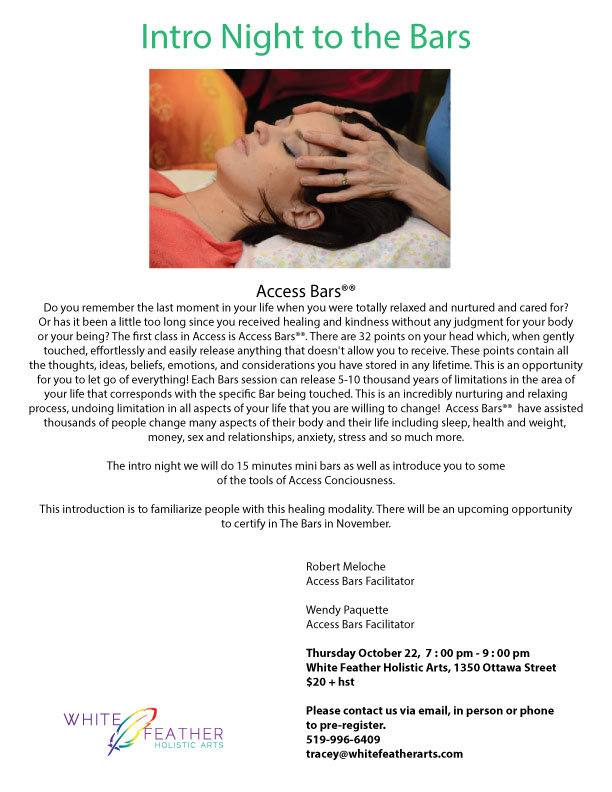 Intro Night to The Bars
with Rob Meloche & Wendy Paquette
Access Bars®®
Do you remember the last moment in your life when you were totally relaxed and nurtured and cared for? Or has it been a little too long since you received healing and kindness without any judgment for your body or your being? The first class in Access is Access Bars®®. There are 32 points on your head which, when gently touched, effortlessly and easily release anything that doesn't allow you to receive. These points contain all the thoughts, ideas, beliefs, emotions, and considerations you have stored in any lifetime. This is an opportunity for you to let go of everything! Each Bars session can release 5-10 thousand years of limitations in the area of your life that corresponds with the specific Bar being touched. This is an incredibly nurturing and relaxing process, undoing limitation in all aspects of your life that you are willing to change! Access Bars®® have assisted thousands of people change many aspects of their body and their life including sleep, health and weight, money, sex and relationships, anxiety, stress and so much more.
The intro night we will do 15 minutes mini bars as well as introduce you to some of the tools of Access Conciousness.
This introduction is to familiarize people with this healing modality. There will be an upcoming opportunity to certify in The Bars in November.
Robert Meloche
Access Bars Facilitator
Wendy Paquette
Access Bars Facilitator
When: Thursday October 22, 7pm – 9pm
Where: White Feather Holistic Arts, 1350 Ottawa Street
Cost: $20 + hst
Please contact us via email, in person or phone to pre-register
519-996-6409
[email protected]
Location
White Feather Holistic Arts
1350 Ottawa Street
Windsor, Ontario