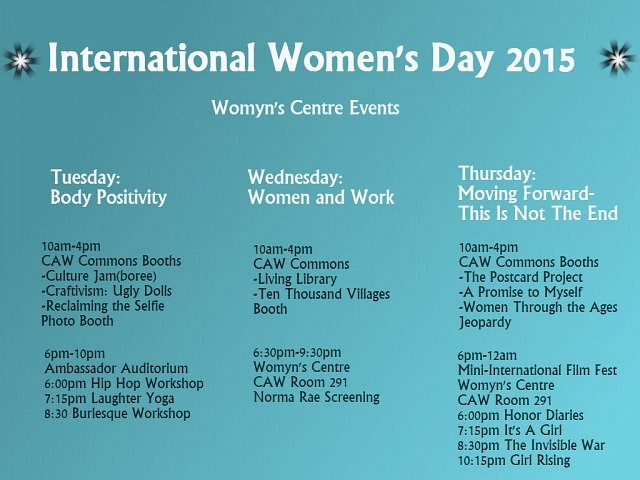 From Tuesday, March 3rd to Thursday, March 5th, The Womyn's Centre is putting on events for International Women's Day.
The week of March 8, thousands of events are held globally to celebrate women and promote equality.
The Womyn's Centre participates by hosting events for the University of Windsor students and community members to discuss and contribute to the network of ideas and movements promoting equity for women.
This year, we will be hosting events in the CAW Commons Tuesday, Wednesday, and Thursday in the mornings, and evening events in either the Womyn's Centre or Ambassador Auditorium.
On Tuesday, as our theme is Body Positivity, we will be hosting booths in the CAW Commons from 10am-4pm on Craftivism: Ugly on Purpose, Culture Jam(boree), and a photobooth Reclaiming the Selfie. In the evening, we will be having an evening of Body Positive Engagement from 6-10PM in the Ambassador Auditorium Salon A. From 6:00PM-7:00PM, we will have a Hip Hop Workshop, followed by Laughter Yoga from 7:15PM to 8:15PM. We'll finish up with a Burlesque Workshop from 8:30PM-9:30PM, and a debrief in the Womyn's Centre. Snacks and hydration will be provided.
On Wednesday, our theme is Women and Work. We will be having a Living Library event in the CAW Commons from 10:00am-4:00pm with "Living Books", women from fields and professions traditionally male-dominated. Students and community members who participate in our Living Library will be eligible to win prizes! We will also be having a booth at the same time from Ten Thousand Villages, a not-for-profit organisation that markets products from handicraft and agricultural organizations based in low-income countries. 70% of the artisan groups that they support are women's groups. In the evening, from 6:30PM-9:00PM, we will be screening Norma Rae, a film about a female union organizer.
On Thursday, we will be hosting booths in the CAW Commons from 10:00am to 4:00pm on the theme of Moving Forward: This Is Not The End. There will be 3 booths: The Postcard Project, where participants write postcards to women who have inspired them, A Promise to Myself, where participants write a promise to themselves on a whiteboard and take a photo of that promise for Facebook, and finally Women Through The Ages Jeopardy. Thursday evening we will be hosting a Mini-International Film Fest to wrap up our events. It will take place from 6pm to midnight in the Womyn's Centre (Room 291 in the CAW Centre).
6:00-7:00PM: HONOR DIARIES
7:15-8:15PM: IT'S A GIRL
8:30-10:00PM: THE INVISIBLE WAR
10:15PM-12AM: GIRL RISING
Location
University of Windsor CAW Commons
401 Sunset Avenue
Windsor, Ontario