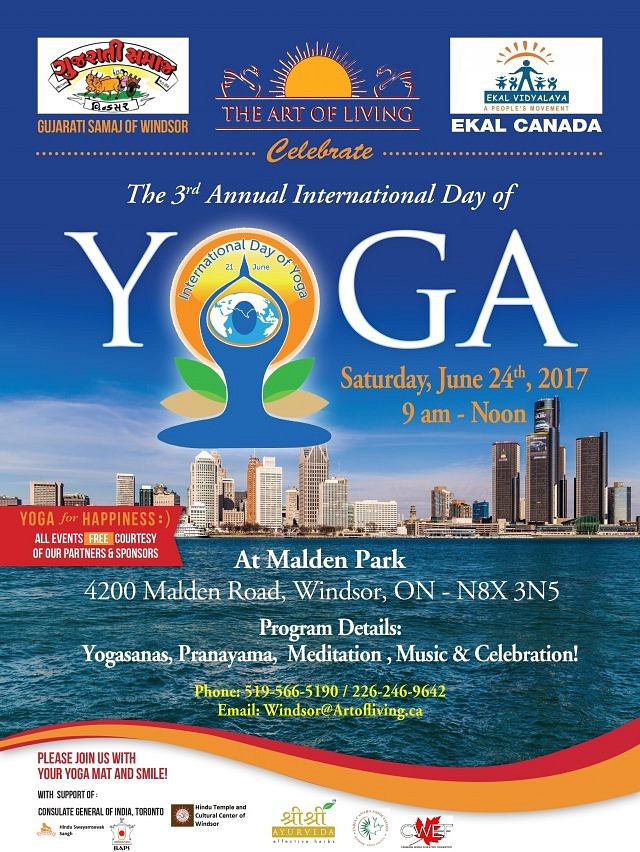 On December 11, 2014, the 193 member United Nations General Assembly established 21 June as "International Day of Yoga" by consensus with a record 177 co-sponsoring countries. In its resolution, the UNGA recognized that Yoga provides a holistic approach to health and well-being and wider dissemination of information about the benefits of practicing Yoga for the health of the world population.
You are invited to be a part of International Day of Yoga Celebration by The Art of Living Foundation on June 24, 2017 at Malden Park, Windsor.
Details:
· Venue: 4200 Malden Rd, Windsor, Ontario N9E 3P2
· Venue Google Map Link: https://goo.gl/maps/KDcTe6Fz4q22
· Event Date & Time: Saturday 24th – 9:00am – 11:30am
Through this two-and-a-half-hour event, open to people of all ages and backgrounds, we'll share yoga as a universal practice to create more peace, health and happiness in our everyday lives. This free event is being organized by local volunteers, fueled by our love of yoga, as a service to our community.
No prior experience with yoga is necessary – just an open mind and a caring heart.
*Note: Please bring your own Yoga Mats. Children are welcome to join in.
The Art of Living Foundation:
Operating in 154 countries, The Art of Living Foundation (AOLF) is a non-profit, educational and humanitarian organization founded in 1981 by the world-renowned humanitarian and spiritual master Sri Sri Ravi Shankar. All AOLF's programs are guided by Sri Sri's philosophy: "Unless we have a stress-free mind and a violence-free society, we cannot achieve world peace."
Event Facebook Link: https://goo.gl/3SxTPh
Location
Malden Park
4200 Malden Road
Windsor, Ontario