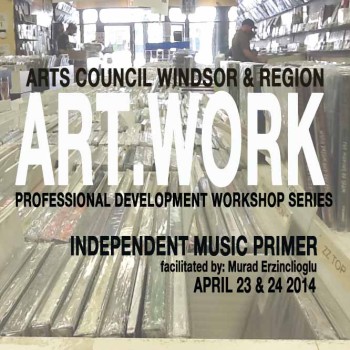 A multi faceted look at how to make your musical projects have greater impact working in the independent music sphere. Facilitated by Murad Erzinclioglu, Music Director at CJAM 99.1 and creative director of Harvesting the FAM Festival.
WHEN: Wednesday April 23 and 24 2014
TIME: 6-8:30pm
WHERE: Arts Council Windsor & Region (1942 Wyandotte St. E)
COST: $10 for ACWR members or $15 for non members. (not a member? – become a member here)
This workshop is limited to only 15 participants please ensure you have registered (registration below) and paid prior to April 17.
TOPICS
Running your own radio campaign
Leveraging social media
Your music as a business
International strategies for visas, and promotion
Creating one-sheets and press copies
Developing perspectives and strategies to create realistic goals
Funding opportunities available for independent musicians.
About the Facilitator
Murad Erzinclioglu is the current Music Director at CJAM 99.1FM, creative director of Harvesting the FAM Festival and one half of the Nationally charting duo Learning. Through his work at CJAM, with Learning and FAM Festival, over the past 12 years Murad has developed a deep knowledge of the inner workings of the independent music industry and steps that can be taken to increase potential for success. Murad has chaired the Music Caucus at the National Campus-Community Radio Conference and spoke about DIY sensibilities and know-how on a panel at College Music Journal Conference in New York City.
About ART.WORK Professional Development workshop series
The ART.WORK Workshop series provide artists at all stages of their careers and practices with usable and accessible information, examples and hands on experience in learning the art of being a professional artist. For more information on upcoming workshops click here
Location
Arts Council Windsor & Region
1942 Wyandotte Street East Windsor
Windsor, Ontario