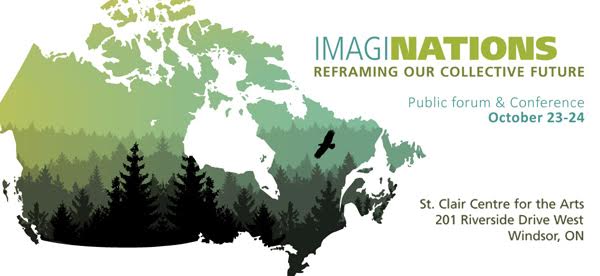 This year, the Council of Canadians celebrates 30 years of bringing people together to act for social justice. Join us in Windsor, Ontario to imagine the future Canada we want with good green jobs, a vibrant democracy, a strong public health care system, clean water and a healthy environment, justice for Indigenous peoples, and opportunities for youth.
Occurring just four days after the federal election, our Friday public forum will provide analysis of the federal election results ­– what the results mean for civil society and for Canada, and how we will move forward together to create the Canada we want.
Event details:
Friday, October 23:
Public Forum: ImagiNations: Reframing Our Collective Future 7:00 p.m. – 9:30 p.m.
Admission: $15 suggested donation or pay-what-you-can (free with conference registration)
The public forum will open with a welcome from Chief Louise Hillier, Caldwell First Nation. The Gaia Women of the Great Lakes Basin will perform two songs.
Keynote speakers:
•Maude Barlow, National Chairperson, The Council of Canadians;
•Jerry Dias, National President, Unifor;
•Dr. Pamela D. Palmater, Associate Professor and Chair in Indigenous Governance, Ryerson University; and
•Gordon Laxer, Political economist and former Director, Parkland Institute.
Saturday, October, 24:
ImagiNations: Reframing Our Collective Future Conference (registration required)
Join us for a day of interactive workshops and plenary panel discussions that will inform, inspire and motivate you to take action!
Visit the Council's website to learn more and to register (http://canadians.org/conference), download the conference brochure here:
http://canadians.org/…/conf…/2015/conference-brochure-15.pdf and visit the Facebook event here: https://www.facebook.com/events/847044765402408/
Location
St. Clair College Centre for the Arts
201 Riverside Drive West
Windsor, Ontario