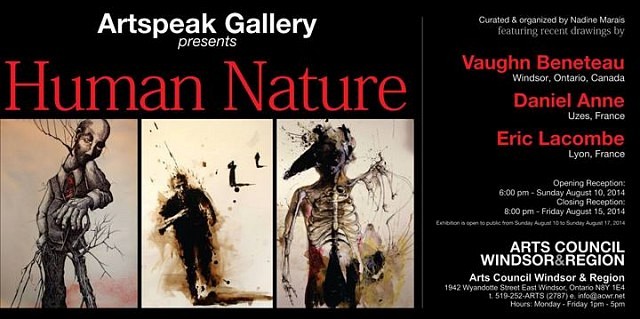 Featuring recent drawings by 3 artists:
Vaughn Bénéteau (Windsor, Ontario, Canada)
Daniel ANNE (Uzes, France)
Eric Lacombe (Lyon, France)
2 – Reception dates: 6:00 pm – Sunday, August 10, 2014 & 8:00 pm – Friday, August 15, 2014
Open to the public from:
1:00 pm August 10, 2014 to 11:00 am August 17, 2014
Human Nature is an exhibition curated and organized by Nadine Marais (Windsor, ON from Montpellier France) featuring recent drawings by artists Vaughn Beneteau, Daniel Anne, Eric Lacombe.
About the exhibition:
Human Nature
Three artists, three different horizons help us discover through their drawings, their visions of human nature.
Vaughn Beneteau, a Canadian artist, man and nature are one. The tree becomes body, the bird is the face, the eyes are fixed, like to remind all of us of where we come from and where we are going.
Daniel Anne depicts the animal in man, this often partly hidden, repressed, which nevertheless exists and gives some "humanity" found in many animals. Looking at the drawings of Daniel, you can feel the action, human and animal breath, beat in unison.
Eric Lacombe's look at human nature is uncompromising! It explores over its faces, hidden from each of us, to reveal "the animality of our soul." The line is light, delicate as the breath of life!
__________________________________
La Nature Humaine
3 artistes, trois horizons différents nous font découvrir a à travers leurs dessins, leurs visions de la nature humaine.
Pour Vaughn Beneteau, artiste canadien, l'homme et la nature ne font qu'un. L' arbre devient corps, l'oiseau se fait visage, les yeux sont fixes, comme pour rappeler à chacun d'entre nous, de la nous venons.
Daniel Anne aborde l'animalité chez l'homme, cette partie souvent cachée, refoulée, qui pourtant existe et donne une certaine " humanité" que l'on retrouve chez bon nombre d'animaux. En regardant les dessins de Daniel, vous pouvez sentir l'action, le souffle humain et animal, battre à l'unisson.
Le regard d'Eric Lacombe sur le la nature humaine est sans concession ! Il explore au fil de ses visages, la part cachée de chacun d'entre nous, pour laisser apparaître " l'animalité de notre âme ". Le trait est léger, délicat comme le souffle de vie !
Arts Council Windsor & Region
Artspeak Gallery:
http://acwr.net/gallery/
1942 Wyandotte Street East
Windsor, Ontario, Canada
N8Y 1E4
t. 519-252-ARTS (2787)
e. [email protected]
Hours: Monday – Friday 1pm – 5pm
Location
Arts Council Windsor & Region
1942 Wyandotte Street East (at Devonshire)
Windsor, Ontario