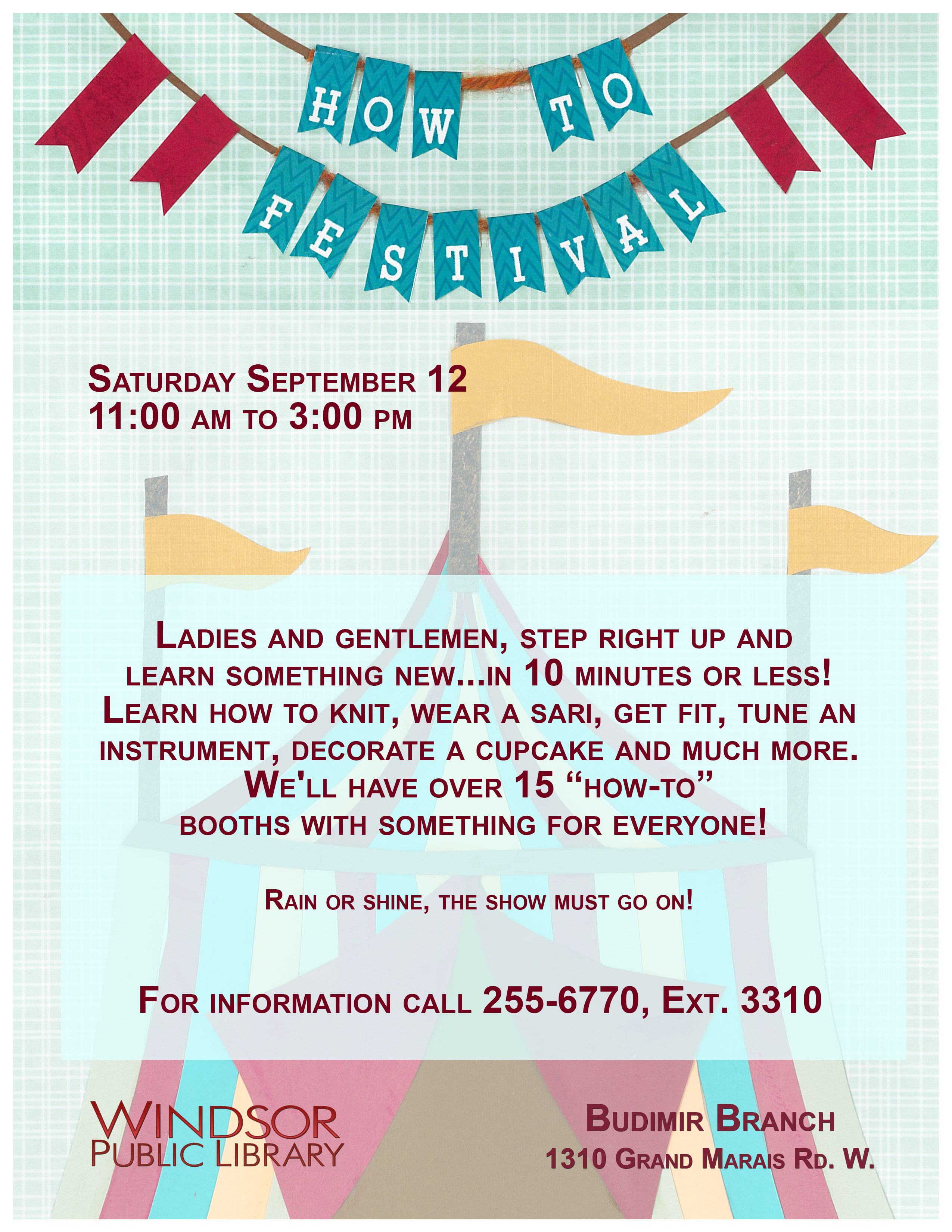 HOW-TO FESTIVAL AT BUDIMIR LIBRARY WILL ENLIGHTEN AND AMUSE
Are you looking for something interesting, informative and amusing to do as summer winds down? Do you want to learn new skills to impress friends and family? If so, the Budimir Branch of Windsor Public Library (1310 Grand Marais Road West) has just the event for you.
On Saturday, September 12, the Budimir HOW-TO FESTIVAL is scheduled from 11 am through 3 pm – rain or shine. Located around the grounds will be close to 20 HOW-TO booths – where members of the community can learn something new in 10 minutes. Learn how to knit, wear a sari, get fit, play an instrument, decorate a cupcake, perform a simple magic trick and much, much more.
Confirmed participants include:
• Canada South Science City – how to correctly use laboratory measuring equipment;
• Elizabeth Prosser and Miles Prosser-Merrifield – how to perform a simple magic trick and create balloon animals;
• Knit One Sew Too – how to do arm knitting (no needles required!);
• LeeLee Hats – how to loom;
• Levigator Press – how to sew on a button so it never falls off again!;
• Multicultural Council of Windsor – how to greet people in 10 different languages;
• Refine Fitness – how to do exercise anytime, anywhere;
• South Asian Centre of Windsor – how to wear a sari;
• South Windsor School of Music – how to play a simple tune on a guitar;
• South Windsor Yoga – how to perform basic yoga techniques;
• Sweet Revenge Cake Shop – how to decorate a cupcake;
• Windsor/Essex County Human Society – how to train your dog;
• Windsor-Essex County Health Unit – how to make your own simple, healthy salad dressing; how to add more fruits & veggies into your diet;
• Windsor-Essex County Health Unit – low risk drinking guidelines;
• Windsor Essex CPR & First Aid Training – how to do basic CPR;
• Windsor Public Library – how to download apps & digital content onto your mobile device. 
Materials on each of the topics will be available to check out.
For more information, please contact Christine Rideout-Arkell at 519.255.6770, Extension 3310.
Location
Budimir Library
1310 Grand Marais Road West
Windsor, Ontario