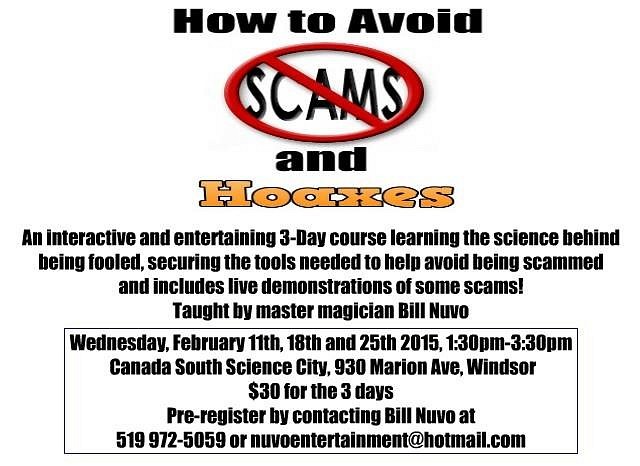 Wednesdays February 11th, 18th and 25th
1:30pm-3:30pm
$30 for the 3 day course
Pre-register by contacting 519 972 5059 or [email protected]
*Material is geared for participants 16yrs-116 yrs
From Houdini to Penn & Teller, magicians (or "honest liars" as they are sometimes called) are experts in the art of deception. They are very aware of the techniques used to fool people and this wealth of knowledge can be used for debunking scams and hoaxes. Learn the red flag words, some logical fallacies, how science works (scientific method), increasing critical thinking and learn a few magic tricks from master magician Bill Nuvo.
#1: How we are Fooled: The psychology and neuroscience, the problems with anecdotes and testimonials
#2: Science and the Media: How to understand it. Red Flag words used to mislead in questionable advertising
#3: The Secrets of the Scams (science): Includes live demonstration of scams in real time! Final review of course material
Not only is Bill a master magician with over 30 years experience but also studies various subjects through prestigious universities, including nutrition, chemistry, psychology, neuroscience, astronomy and more.
Location
Canad South Science City
930 Marion Avenue
Windsor, Ontario