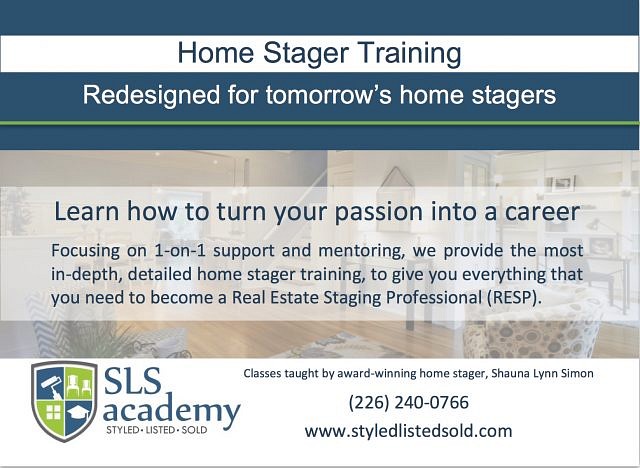 The Windsor Real Estate market is on the rise, and there has never been a better time to launch a home staging career in Windsor/Essex County!
​
Not sure how to get started? Want to learn the techniques of
home staging, and how to get real estate agents on board? ​
SLS Academy's Home Stager Training Program is brought to you by home staging expert, Shauna Lynn Simon. In addition to learning the techniques of home staging, you will learn how to meet and greet your clients, register, build, and grow your business, and how to manage projects from start to finish. This training provides extra focus on the psychology of both home buyer, and home seller, behaviours, and how to address various challenges. We address the importance of maintaining the "people factor", and how to work with various of clients and personalities.
Our program doesn't just provide a system for home staging, but it identifies, addresses, and provides detailed background regarding many of the design aspects involved in preparing a home for sale. Home staging goes far beyond the final arranging and accessorizing. Our look at updates and repairs goes beyond the standard "easy fix" items, and reviews both the quick fix solutions, as well as the larger projects and upgrades, such as flooring, bathroom renovations, kitchen renovations, and more.
Location
WFCU Centre - Michigan Room
8787 McHugh Street
Windsor, Ontario