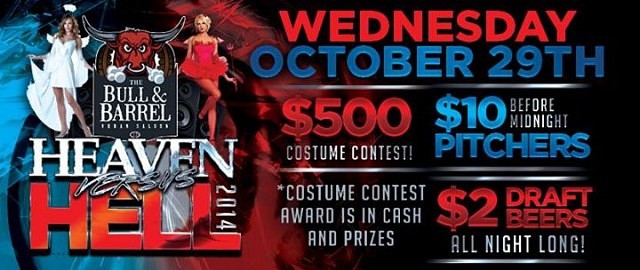 Wednesday, October 29th, join us for the Heaven vs Hell party at the Bull and Barrel!
We Have $2 domestic shell beers all night long, and $10 domestic pitchers until midnight!
Be here for the costume contest where one lucky person will be taking home $500 dollars in cash and prizes!
Registration begins from 10pm-12:30am, and the contest will start at 1:15am.
Text "Heaven Vs Hell" to 226 347 2234 with your name and party size to get on the VIP list!
A breakdown of the contest rules, and the judging procedure are available at the link below:
https://dl.dropboxusercontent.com/u/22971760/Halloween%20Costume%20Contest%20Guidelines.pdf
Make a reservation online at www.bullandbarrel.com
Location
The Bull n' Barrel
670 Ouellette Avenue
Windsor, Ontario