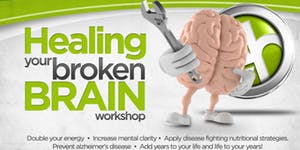 Healing Your Broken Brain Workshop
Join Dr. Nantais on Monday, June 18th, 2018 at 6PM for this FREE workshop that will show you how you can live a better quality of life for the rest of your life.
What You Will Get Out Of This Workshop – Learn How To:
Double your energy.
Increase mental clarity.
Apply disease fighting nutritional strategies.
Prevent alzheimer's disease.
Add years to your life and life to your years
Have You Ever Asked?
What keeps your mind young and vibrant? How can we stall or reverse some of the aging processes in our bodies? Come learn some tips about staying young and vibrant
Please register you and your guest(s) early as seating is limited!
Location
Calvary Community Church
1731 Lesperance Road
Tecumseh, Ontario