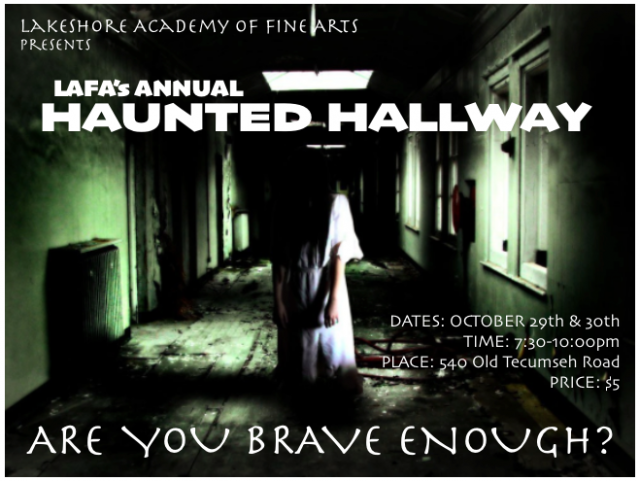 ARE YOU BRAVE ENOUGH TO MAKE IT THROUGH THIS HAUNTED HALLWAY?
Come join us on October 29th and 30th for the scare of you life at LAFA Studios! Every room in our studio will have a different interactive haunted theme, designed by our very own LAFA actors, to bring you the most scares possible. At the end, you can test your strength to see if YOU can make it through the ZOMBIE GRAVEYARD! We've got games, candy and some spooky entertainment planned for our folks waiting in line- but will you make it out ALIVE?
PRICE: $5 per guest
HAUNTED DATES: October 29th and 30th, 2015
DOORS OPEN FROM: 7:30-10:00pm
Spooky bake sale and hot beverages will be served throughout the evening.
Location
Lakeshore Academy of Fine Arts
540 Old Tecumseh Road
Lakeshore, Ontario