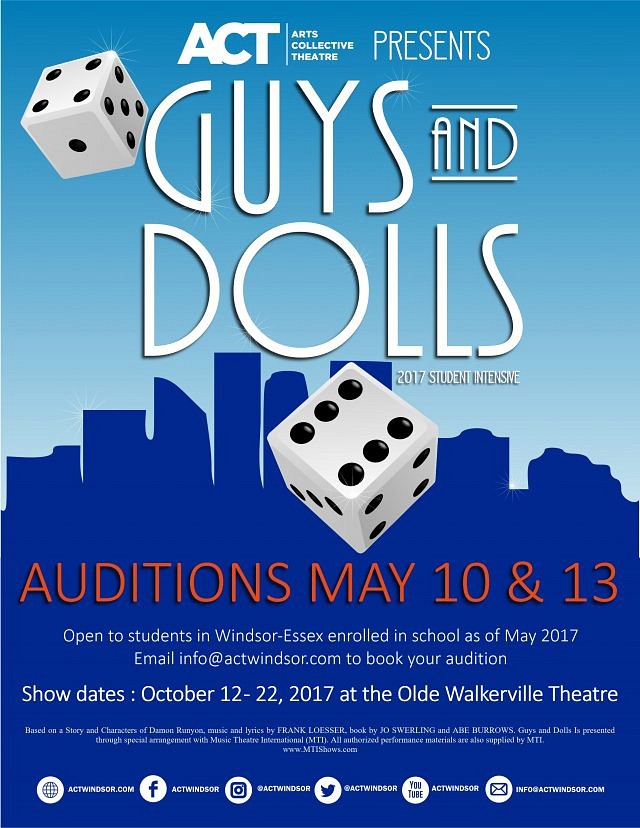 Auditions are open to students 15 – 25 years old who are enrolled in high school or post-secondary education as of May 2017. Auditions will take place May 10 and 13. Students are welcome to apply by emailing [email protected] If you cannot make these audition dates, please email us and let us know you're interested in applying. Students are required to prepare 2 song choices to perform at their audition and bring a copy of their performance resume and head shot with them.
Guys & Dolls
New York's most infamous crap game organizer, Nathan Detroit, hoping for a big pay day, challenges notorious gambler Sky Masterson to a bet he's sure he'll win: take mission girl Sarah Brown to dinner in Havana, Cuba. Sky accepts and pursues the known prude, seemingly hopelessly, while Nathan deals with his own situation – his 14-year fiancée, Adelaide, who's tired of waiting for a wedding. When bets and love seem at odds, the characters are called to question their priorities to make things right.
Musical numbers in Guys & Dolls include classics such as "A Bushel and a Peck", "If I Were a Bell", "Luck Be a Lady", "Sit Down, You're Rockin' the Boat", "I've Never Been in Love Before", "Marry the Man Today" and many more!
Show dates: October 12, 13, 14, 19, 20 & 21 at 7:30pm October 15 & 22 at 2:00pm at the Olde Walkerivlle Theatre
Location
Windsor Dance eXperience
866 Walker Rd
Windsor, Ontario