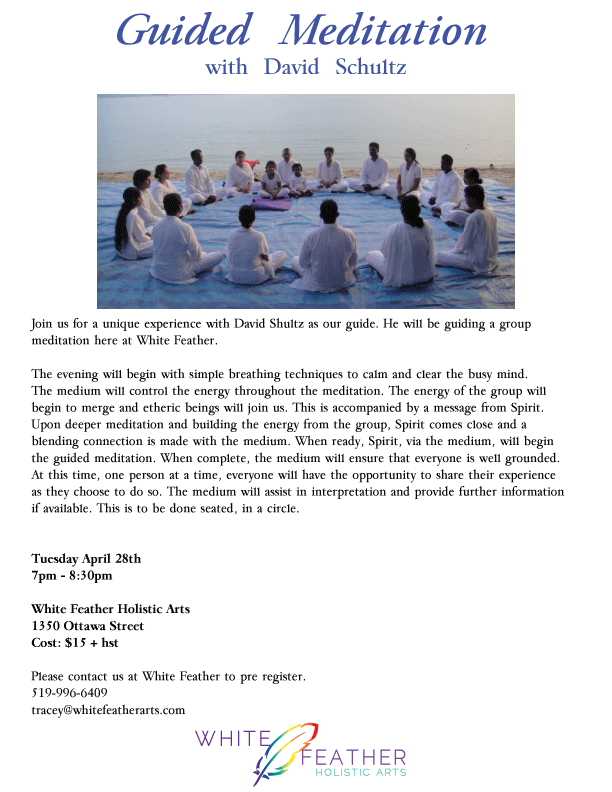 Join us for a unique experience with David Schultz as our guide. He will be guided by Spirit in a group meditation here at White Feather Holistic.
The evening will begin with simple breathing techniques to calm and clear the busy mind.
David will hold the energy throughout the meditation, maintaining a positive energy field. The energy of the group will begin to merge as etheric beings will join us. This is accompanied by a message from Spirit. Upon deeper meditation and building of the group energy, Spirit comes close and a connection is made with the Medium. When ready, Spirit, via the Medium, will begin the guided meditation. When complete, David will ensure that everyone is well grounded.
Everyone will have the opportunity to share their experience if they choose to do so. David and Spirit will assist in interpretation and provide further information if available.
This group meditation is done in a seated position in a circle.
**As an aside – this meditation blew Tracey's mind this past month!
7pm – 8:30pm
Cost: $15 + hst
Please contact us at White Feather to pre register.
519-996-6409
[email protected]
Location
White Feather Holistic Arts
1350 Ottawa Street
Windsor, Ontario