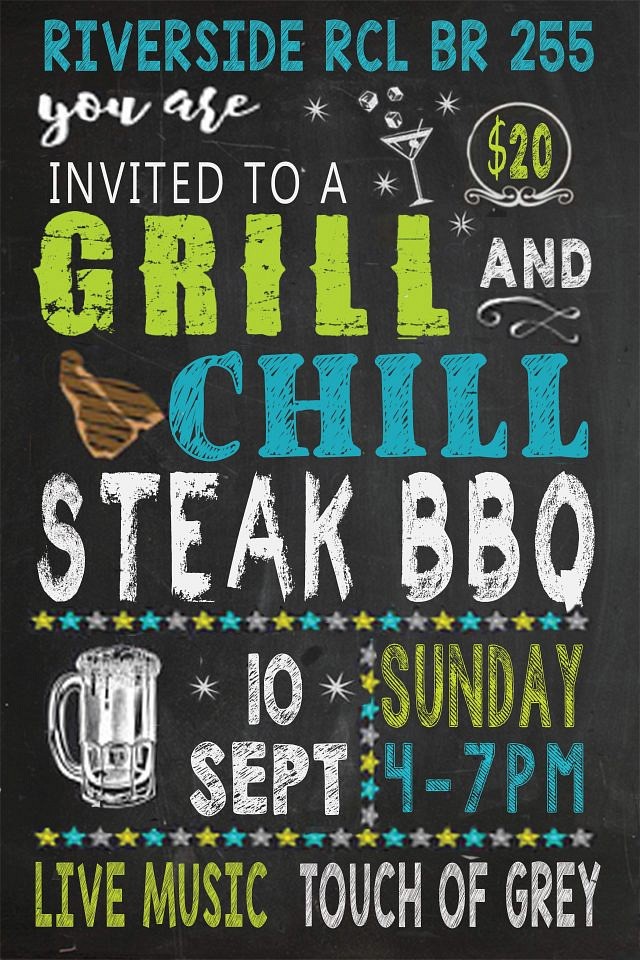 Everyone is invited to a Grill and Chill Steak BBQ. Enjoy a delicious BBQ Steak dinner served hot off the GRILL with baked potato, baked beans , mushrooms, onions and a garden salad, all for only $20.
Enjoy the company of friends, family and neighbours .CHILLax with a few ice cold drinks while you enjoy the sounds of #livemusic Touch of Grey. They will have your feet Tapping to the beat of the music in no time. When the music really starts to move ya ,( and it will) get up on the dance floor and get your grooves on and show off your dance moves.
The kids are back in school, and the summer is winding down, let's have a blast and make this our last big wing ding of the summer. Lets come out in full force and enjoy each other's company. This is an all ages event.
Everyone is welcome. Pick up your tickets at the Riverside RCL BR 255 (5645 Wyandotte Street East) Call 519-945-2012 for details.
Location
The Riverside Royal Canadian Legion Br 255
5645 Wyandotte Street East
Windsor, Ontario