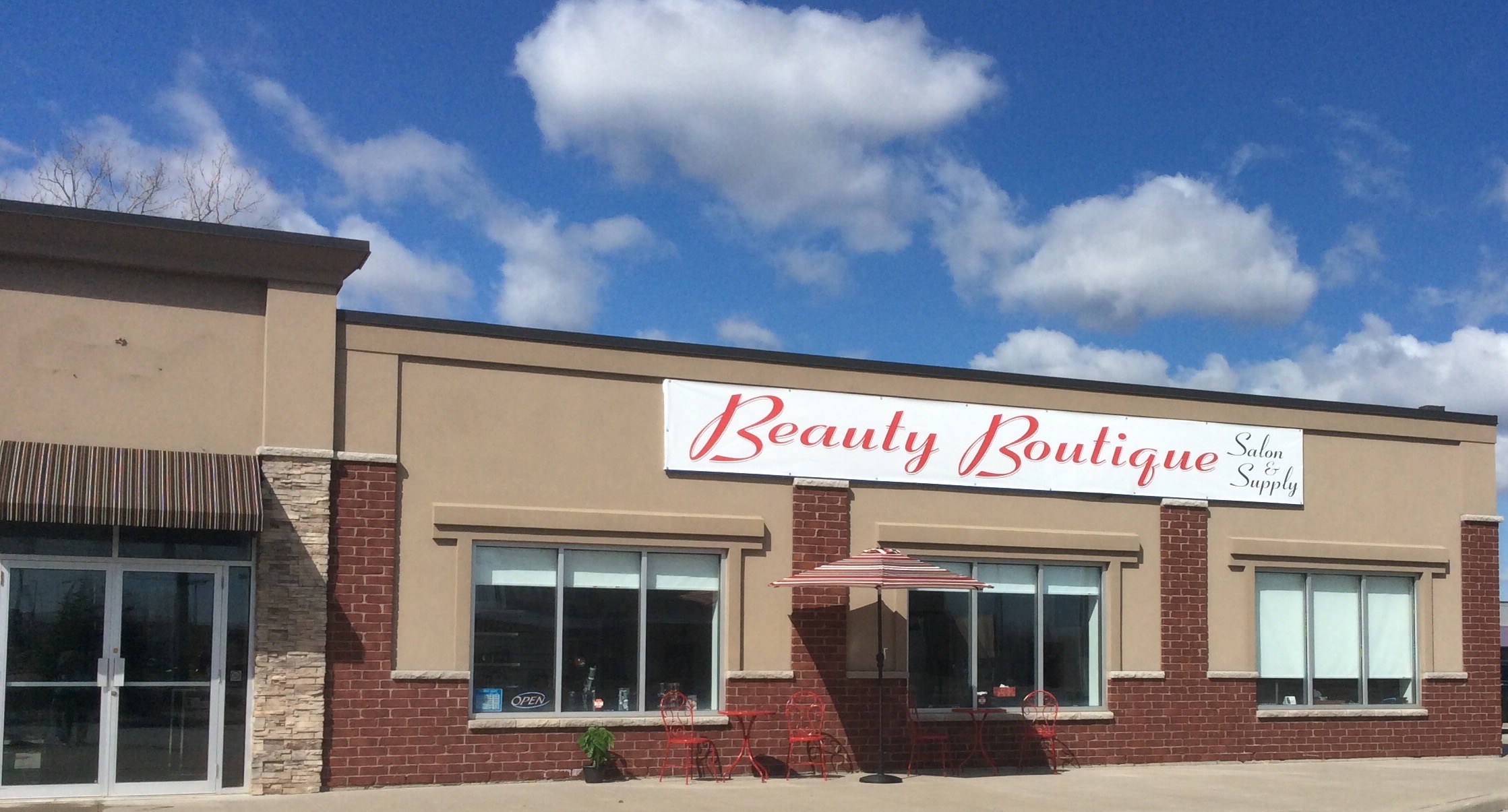 Beauty Boutique Salon and Public Beauty Supply Is proud to announce its grand opening on May 7,June 11,July 9,2016 at 11:00 AM to 6:00 PM. The public is invited to the salon at 4185 Walker Rd.,Tuscany Square (between Winners and Canada Post). Food and refreshments will be served. Attendees may register for a chance to win a pampering gift basket and discount coupons for salon services will be handed out throughout the day. Complimentary eyebrow wax available between 9:30 AM – 11 AM day of Grand Opening.
Elli Radu, Owner of Beauty Boutique Salon, brings 20+ years of experience to the northwoods and prides herself on providing an uplifting experience for her clients. Salon service offerings include: haircuts, perms, hair coloring, highlights, facial waxing, manicures and pedicures as well as a wide selection of quality hair and nail care products.
In addition, Beauty Boutique Salon is launching soon a new website https://ellisabeautyboutique.com designed by Miruna Mavrodin, excellent student on Ottawa.Key features of this website include: 24/7 online appointment booking, e-commerce store to purchase and home delivery of products between salon visits and a news feed to share discounts, specials, beauty tips and salon news.
"I am thrilled to open my salon in Windsor," says Elli, Owner of the Beauty Boutique Salon. "This has been a dream come true. It has been my vision to bring quality family hair care to the community in which I live".
The salon is open Monday-Saturday, and "After Hours " with appointment.To schedule an appointment online, visit our www.Facebook.com / Ellisa Beauty Boutique , soon website https://ellisabeautyboutique.com or call Elli at 519-800-4937
Beauty Boutique Salon&Supply is dedicated to consistently providing high customer satisfaction by rendering excellent service, quality products, and furnishing an enjoyable atmosphere at an acceptable price/value relationship. Serving the Essex County.
Elli began her career by attending the acclaimed IGIENA Beauty Academy in Bucharest Since graduating in 1990, she has furthered her education through training with Wella,Schwarzkopf,ABA,Tressa,St.Claire College,Marvel Beauty,Image Beauty Institute, as well as attending various continuing education courses. She regularly attends trade shows and enjoys learning new techniques with cutting and coloring. She has owned and operated her own salons for the past 12 years in Canada and more in Europe.In her free time Elli loves creating delectable dishes and entertaining and enjoys soaking up the sun on the lake with family and friends. Special times include searching and making skin lotions, facial oil-serum, orgonite crystals-pyramid devices which give us inside and outside a perfect harmony.
Miruna Mavrodin,Lumi Vasu, Nico Burlea,provides marketing and business support services to small business owners allowing them more time to focus on their core business, increase profits and achieve a better work/life balance. We offer a full range of customized professional services, light therapy,cap head massager, exquisite skin face treatments,reflexology,reiki,ombre hair extension, the best scalp massage in city.
Note to editors: For additional information, photos or to schedule interviews, please contact Adrienne Murphy, Owner/Stylist, at 226-246-1140 or [email protected]
Location
Beauty Boutique
4185 Walker Road
Windsor, Ontario