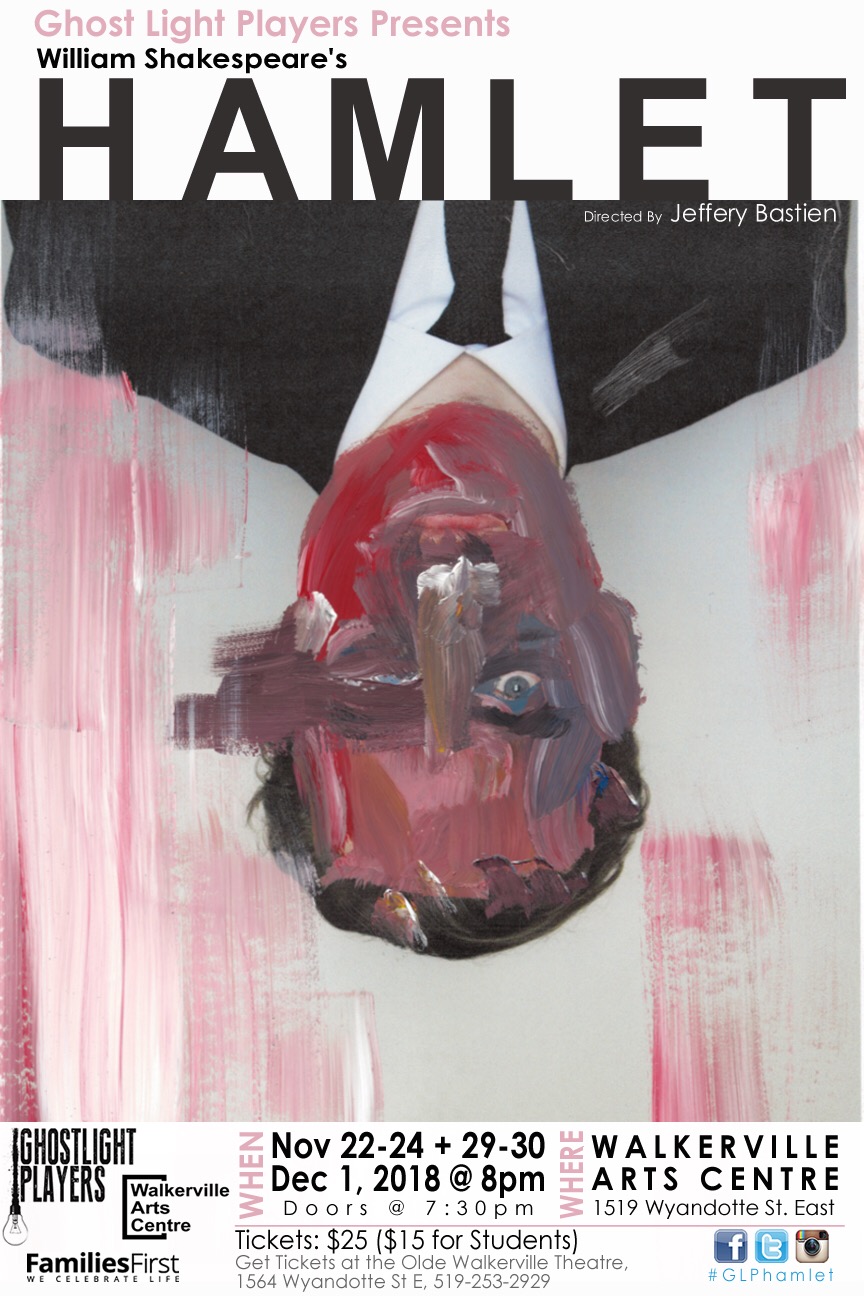 Ghost Light Players, the Company that took Love's Labour's Lost to Cooper Hawk's Vineyard and to Kordazone, brings a dramatically reimagined take on William Shakespeare's Hamlet to the newly minted Walkerville Arts Center (1519 Wyandotte St East). Performance dates are November 22-24, 29,30, and December 1. Tickets are available at the Olde Walkerville Theatre Box Office.
The production boasts an exceptional cast featuring GLP veterans and cadre of brave new collaborators. Jeremy Burke leads the charge in the titular role, and is soundly supported by Chris Lanspeary as Claudius, Kristen Lamoure-Dias as Gertrude, Kitu Turcas as Horatio Dean Valentino as Polonius, Dani Michie as Laertes, and Kiera Publicover as Ophelia. Averey Peters, Heath Camlis, Mercedes Ranjit, Nicholas Bourque, Haiden Lyle, and Tim Maitland round out this stellar cast. Set design and lighting design created by Nathaniel Cedroni, and costumes and props designed by Karen Kilbride. Hair and makeup designed by Kyra Scarlett.
"The simplest way to explain our vision of Hamlet is: Shakespeare's text plus Oliver Stone's Wall Street plus American Psycho and you have our Hamlet," explains Director Jeffery Bastien.
"I want to illustrate the corruption and degradation of a system that would be alien to the audience. When it was originally written, this was a feudal noble tragedy, however by moving it to a time of unchecked capitalist greed, I feel we can see how Hamlet works to describe a system of self-serving and self-destruction. So it's safe to say GLP won't be doing the Hamlet we took in English class, ours will be an examination of how Power moves. We are excited to bring the audience along for the ride, they won't be disappointed."
Hamlet has six performances in the Walkerville Arts Center, in the heart of Olde Walkerville. Performance dates are November 22-24, 29,30, and December 1st. Tickets are $25 ($15 for students) and will be available at the Olde Walkerville Box Office (1564 Wyandotte St East), online at Oldewalkervilletheatre.ca or by calling 519 253 2929.
Any media requests can be made to Jeffery Bastien at 519 817 9176 or by emailing [email protected] Ad packages and sponsorship information for this production is also available.
-30-
Location
Walkerville Arts Center
1519 Wyandotte Street East
Windsor, Ontario