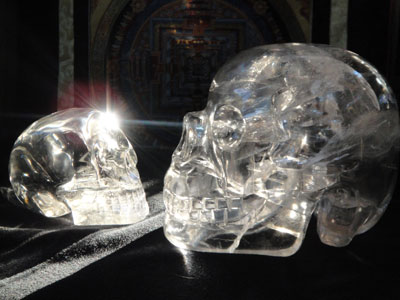 Facilitated by Tracey Rogers
Crystal Skulls can be intimidating, unfamiliar, and hold the appearance of "death" or mortality. Tracey had to overcome a great many judgements and assumptions to start working with Crystal Skulls effectively in her own crystal and energy practice.
This workshop is designed to share the history of the Crystal Skulls and their Mayan roots. In addition to this, we will be delving into the knowledge, growth, and benefits that Crystal Skulls can bring into our own life.
Tracey will be bringing in her own Crystal Skull collection, including a life sized Smoky Quartz skull. We will be doing a meditation with Crystal Skulls together as a group. You are invited to bring in your own crystal skulls for the meditation.
Our goal in this workshop, is to look at Crystal Skulls with a new set of eyes, an open mind, and to be comfortable enough to start calling them "friends".
The unlocking of ancient knowledge awaits!
Thursday January 31st
7pm – 9pm
$25 + hst
White Feather Holistic Arts
1350 Ottawa Street
Space is limited, please contact us via phone, email or in person to pre-register.
519 – 996 – 6409
[email protected]
Location
White Feather Holistic Arts
1350 Ottawa Street
Windsor, Ontario