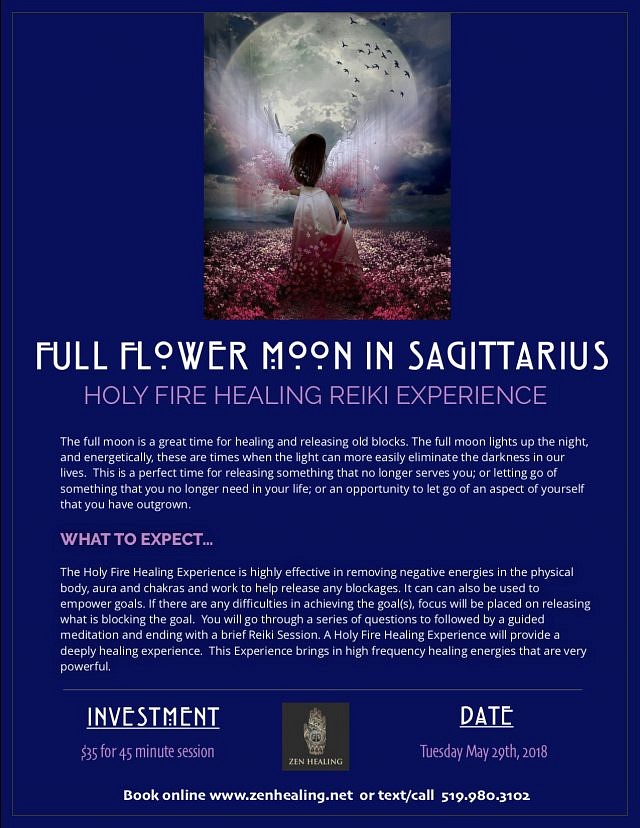 The full moon is a great time for healing and releasing old blocks. The full moon lights up the night,
and energetically, these are times when the light can more easily eliminate the darkness in our
lives. This is a perfect time for releasing something that no longer serves you; or letting go of
something that you no longer need in your life; or an opportunity to let go of an aspect of yourself
that you have outgrown.
WHAT TO EXPECT…
The Holy Fire Healing Experience is highly effective in removing negative energies in the physical
body, aura and chakras and work to help release any blockages. It can can also be used to
empower goals. If there are any difficulties in achieving the goal(s), focus will be placed on releasing
what is blocking the goal. You will go through a series of questions to followed by a guided
meditation and ending with a brief Reiki Session. A Holy Fire Healing Experience will provide a
deeply healing experience. This Experience brings in high frequency healing energies that are very
powerful.
$35 for 45 minute Session
Book online or Text/Call Marsha Nichols 519.980.3102
Location
ZEN HEALING
2398 Francois Road
Windsor, Ontario