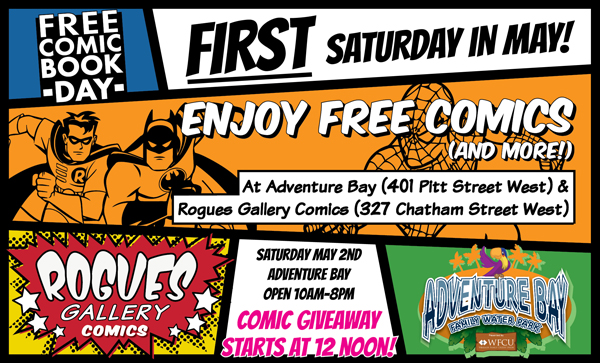 It will be a neighbourhood watch of intergalactic proportions as super heroes (and villains) from across the universe descend upon Downtown Windsor's Adventure Bay Family Water Park Presented by WFCU and Rogues Gallery Comics for Free Comic Book Day on May 2, 2015.
Rogues Gallery is celebrating its tenth Free Comic Book Day and has teamed up with its neighbours at Adventure Bay and Tim Horton's to make this year's event a true community extravaganza.
Starting at 12 noon, comic enthusiasts can obtain three free comics from Rogues and for the first time ever, walk—or fly—to Adventure Bay to pick up a fourth book (while supplies last). Note: Regular Saturday hours still apply at the water park (10am to 8pm), so while the giveaway doesn't begin until noon, splash seekers can access Adventure Bay beginning at the regular time.
In addition to the free literature and the opportunity to rub shoulders with the defenders of the universe, visitors can also enjoy face painting and free Tim Horton's treats in the adjacent parking lot.
To learn more, visit Adventure Bay at 401 Pitt Street West or online at www.adventurebay.ca and Rogues Gallery Comics at 327 Chatham Street West or online at www.rgcomics.com. And, watch for promos and contests in the weeks leading up!
Location
Adventure Bay Family Water Park Presented by WFCU
401 Pitt Street West
Windsor, Ontario