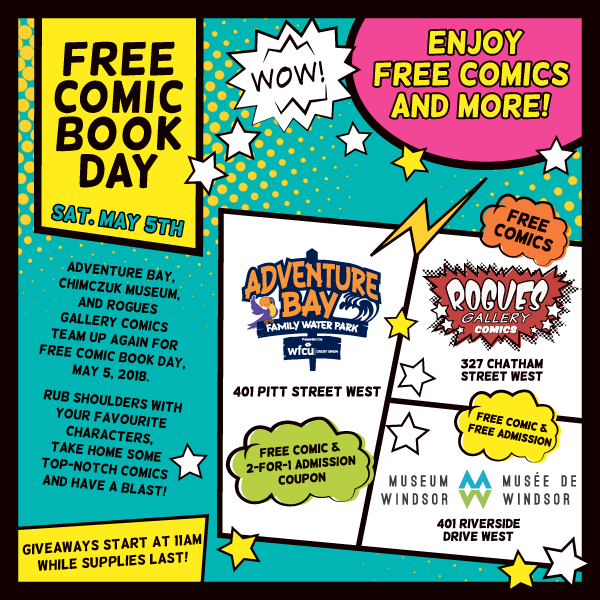 Your favourite downtown attractions once again invite you to a truly spectacular Free Comic Book Day on May 5, 2018. Adventure Bay Family Water Park Presented by WFCU Credit Union, Chimczuk Museum and Rogues Gallery Comics will all be in on the action!
Comic enthusiasts and heroes big and small are welcome, as Rogues Gallery celebrates its thirteenth Free Comic Book Day by teaming up with its neighbours, making this annual event another true community extravaganza.
Starting at 11am, visitors can obtain three free comics from Rogues and walk, fly or teleport to Adventure Bay and Chimczuk Museum to pick up a fourth and fifth book. Collect all five while supplies last!
Regular Saturday hours are in effect for the water park (10am to 8pm), so splash seekers can access Adventure Bay at the regular time before the comic giveaways begin at 11am. Each recipient of a free comic at Adventure Bay will also receive a two-for-one admission coupon (valid until the end of May, while supplies last).
In addition to the free artistic literature and the opportunity to rub shoulders with the defenders of the universe, visitors can also enjoy free admission to the Chimczuk Museum throughout the day along with face painting, superhero sketches, balloon animals and magic shows from 12-4pm.
Location
Adventure Bay Family Water Park Presented by WFCU Credit Union
401 Pitt Street West
Windsor, Ontario