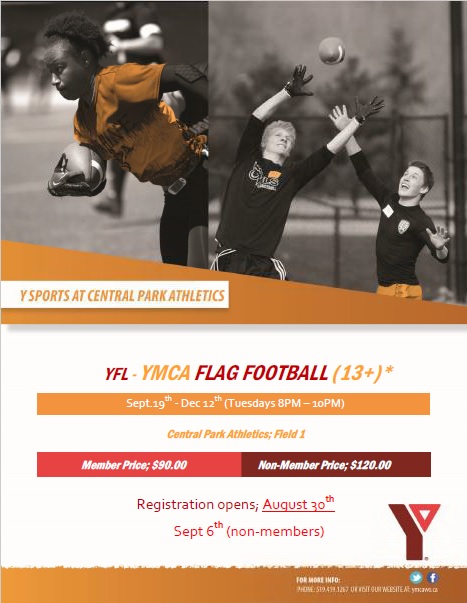 YFL – Flag Football (13 years+)*
No contact necessary. Prepare yourself for a dynamic, fast-paced, and fun football experience. Our YMCA Flag Football League (YFL) is an Adult (13+) league open to individual players of all abilities. It is scheduled to run every Tuesday (8:00pm – 10:00pm); September to December. Individual and team registrations are welcome. Teams will be made after the first week of skill assessment in a fun pickup environment, including a Draft Party afterwards! The league will include a full schedule of refereed games each week, playoffs, and an end of season championship party. Team sponsorship is provided by the Tortoise and Hare Restaurant within Central Park Athletics which includes food after each game! All equipment is provided.
Registration for YMCA members is $90.00;
Registration for non-members is $120.00!
Registration for YMCA members opens Aug. 30th.
Registration for YMCA non-members opens Sept. 6th
More info; [email protected]
519.903.1505
Location
Windsor YMCA, Central Park Athletics
3400 Grand Marais Rd. E
Windsor, Ontario