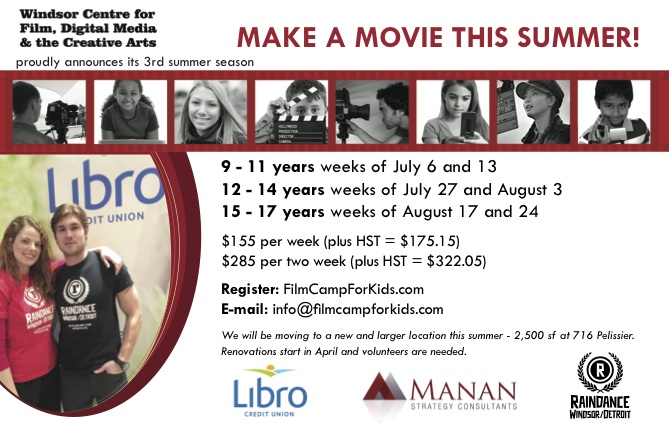 Registration is open for our 2015 camps. This is our 3rd year and we are moving into a new 3,000 sf location in downtown Windsor (currently under renovation but will be ready for July)
Ages 9-11 – Weeks of July 6 and 13
Ages 12-14 – Weeks of July 27 and August 3
Ages 15-17 – Weeks of August 17 and 24
Film Camp: Local post-secondary film and arts students, who attend various schools in Ontario and Michigan, come together each year with industry professionals to offer our summer film camps. Our Camp Instructors guide participants as they to work in "film production teams" to make a film each week. Classes include screenplay writing, pre-production, film editing, acting, cinematography and more. Our camp is a hands-on, facilitated learning environment with mentors and coaches who help to make the experience memorable. Thanks to the community-at-large, we also offer walking tours and location visits to help boost creativity in filmmaking.
Registration forms can be downloaded from our website.
Email us at [email protected] so that we can add you to our email list. Some bursaries will be available in 2015.
Location
Downtown Windsor
716 Pelissier
Windsor, Ontario