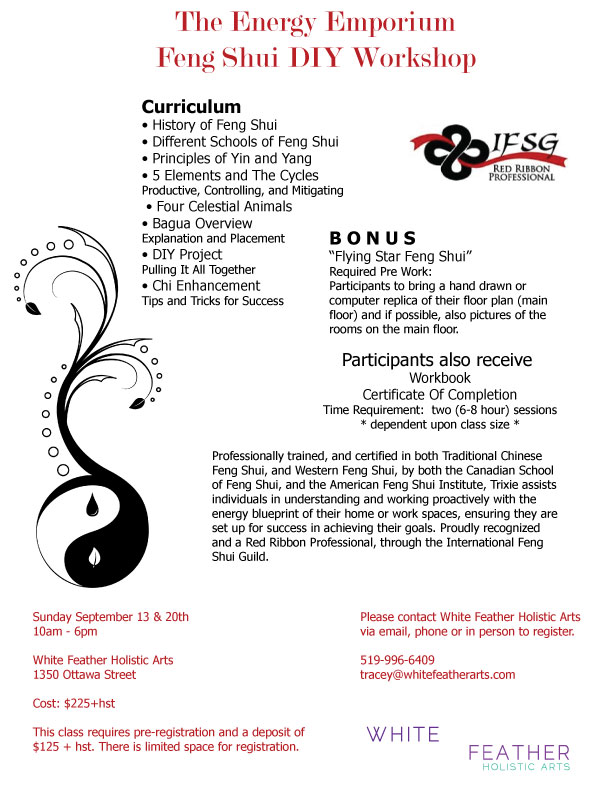 The Energy Emporium
facilitated by Trixie Kennedy
"master the energy blueprint of your internal or external environments"
Curriculum
• History of Feng Shui
• Different Schools of Feng Shui
• Principles of Yin and Yang
• 5 Elements and The Cycles
Productive, Controlling, and Mitigating
• Four Celestial Animals
• Bagua Overview
Explanation and Placement
• DIY Project
Pulling It All Together
• Chi Enhancement
Tips and Tricks for Success
BONUS
"Flying Star Feng Shui"
Required Pre Work:
Participants to bring a hand drawn or computer replica of their floor plan (main floor) and if possible, also pictures of the rooms on the main floor.
Participants also receive
• Workbook
• Certificate Of Completion
Time Requirement: 2 (6-8 hour) sessions
dependent upon class size
Professionally trained, and certified in both Traditional Chinese Feng Shui, and Western Feng Shui, by both the Canadian School of Feng Shui, and the American Feng Shui Institute, Trixie assists individuals in understanding and working proactively with the energy blueprint of their home or work spaces, ensuring they are set up for success in achieving their goals. Proudly recognized and a Red Ribbon Professional, through the International Feng Shui Guild.
When: Sunday Sept 13 & 20th 10am – 6pm
Where: White Feather Holistic Arts, 1350 Ottawa Street
Cost: $225+hst
This class requires pre-registration and a deposit of $125 + hst. There is limited space for registration.
Please contact White Feather Holistic Arts via email, phone or in person to register.
Location
White Feather Holistic Arts
1350 Ottawa Street
Windsor, Ontario