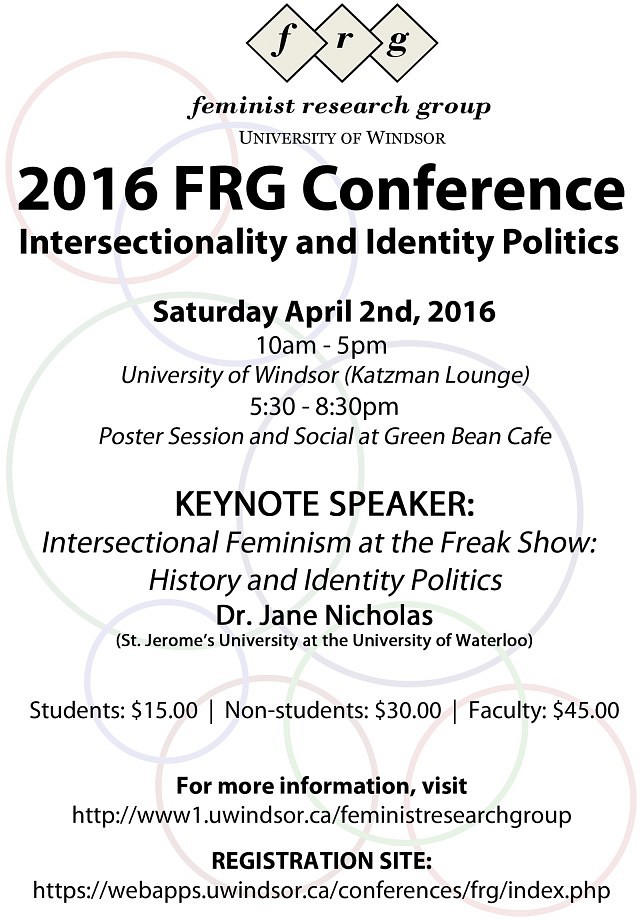 The 2016 Feminist Research Group (FRG) Conference
Saturday, April 2nd, 2016
Intersectionality and Identity Politics
Join us for a day of amazing research from a variety of disciplines including Psychology, Education, Human Kinetics, History, English and Creative Writing, Law, Social Work, Engineering, Biology and more!
FRG Conference Keynote and Panel Presentations
Doors open at 9:00am
10:00am to 5:00 pm at Katzman Lounge (Vanier Hall – University of Windsor campus)
FRG Conference Social and Poster Session
5:30pm to 8:00pm at Green Bean Cafe (2327 Wyandotte Street West)
About our Keynote Speaker:
Dr. Jane Nicholas is an associate professor in the departments of Sexuality, Marriage, and Family Studies and History at St. Jerome's in the University of Waterloo. She is the author of The Modern Girl: Feminine Modernities, the Body, and Commodities in the 1920s (UTP, 2015). She is currently completing a book manuscript on the history of the freak show in Canada called Not a Sideshow: The Freak Show in Canada, 1900-1970. Her talk is entitled: "Intersectional Feminism at the Freak Show: History and Identity Politics."
Please click on the link below to register. Food and refreshments are included with registration, and vegetarian options will be available.
https://webapps.uwindsor.ca/conferences/frg/index.php
Registration Fees:
$15.00 ~ Students (graduate and undergraduate)
$30.00 ~ Community members and other attendees
$45.00 ~ Faculty members
Please email [email protected] with any questions.
Looking forward to seeing you on April 2nd!
Location
Katzman Lounge, Vanier Hall, University of Windsor
401 Sunset Avenue
Windsor, Ontario