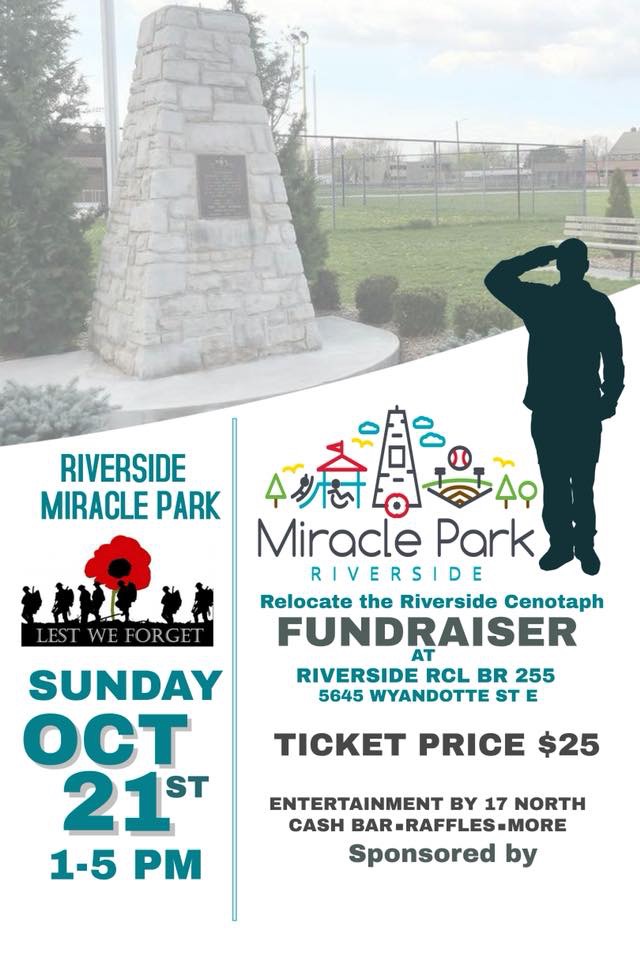 Help the Farrow Miracle Park restore and relocate the Riverside Cenotaph by coming to their Farrow Riverside Miracle Park (Cenotaph Relocation) Fundraiser on Sunday October 21 from 1-5 pm at the RIVERSIDE ROYAL CANADIAN LEGION BRANCH 255. (5645 Wyandotte Street east)
The Scottish Society of Windsor Pipe Band will be performing as well as #Livemusic MISTER PLEASE BAND.
Enjoy A delicious pasta dinner served with meat sauce and for those of you who are vegetarians, there will be a vegetarian sauce too.
There will be a silent auction with great items up for bid and a 50/50 draw with all the proceeds going to the Farrow Miracle Park restore and relocate the Cenotaph fund.
The Tickets are:
Adults $25
Children 6-9 years old $12.50
And
Children 5 and under are FREE.
Come out and show your support. Our cenotaph is a very important part of our community.
Tickets are available through
Riverside Minor Baseball Association ( 519-944-9115)
Riverside RCL BR 255 ( 519-945-2012 )
And
Martin Denonville (519-948-9193)
Please PLAN ON COMING!!! It's going to be a delicious , dancing good time. #windsor #yqg #veterans #lestweforget #wewillrememberthem
https://www.facebook.com/events/270664143515683/?ti=ia
Location
Riverside Royal Canadian Legion Br 255
5645 Wyandotte Street East
Windsor, Ontario