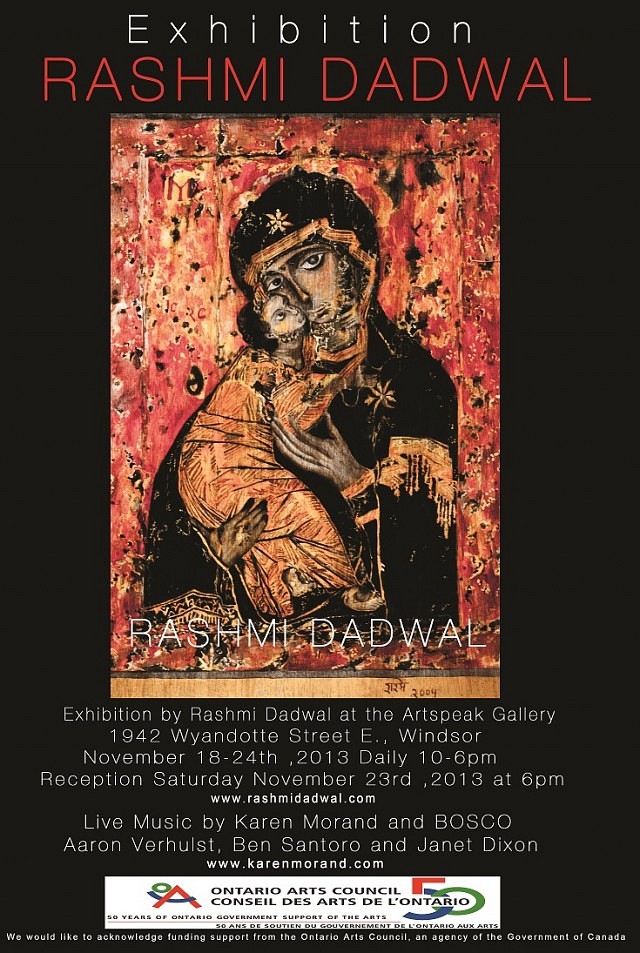 AN INVITATION
It gives me great pleasure to invite you for my 10th annual exhibition, at the Artspeak Gallery, 1942 Wyandotte Street E. from November 18th to 24th daily from 10:00am to 6:00pm.
For those who may not know me, I am a mixed media artist blending and shifting between creative mediums like textile design, fine arts, handicrafts, stained glass, and sculpture. My unique art pieces and icons often combine organic and religious spirituality with environmental consciousness. As a result, the unique objects d'art that I create have permeated Windsor and today serve as time stamps of over a decade of artistic evolution and progress.
At the Reception on November 23rd starting 6pm there will be some refreshments and music by Karen Morand and Bosco.
Come out to support me and enjoy my unique art – there will be something for everyone!!
Looking forward to seeing you,
Sincerely
Rashmi Dadwal
519.991.6350
Location
Artspeak Gallery
1942 Wyandotte Street East
Windsor, Ontario