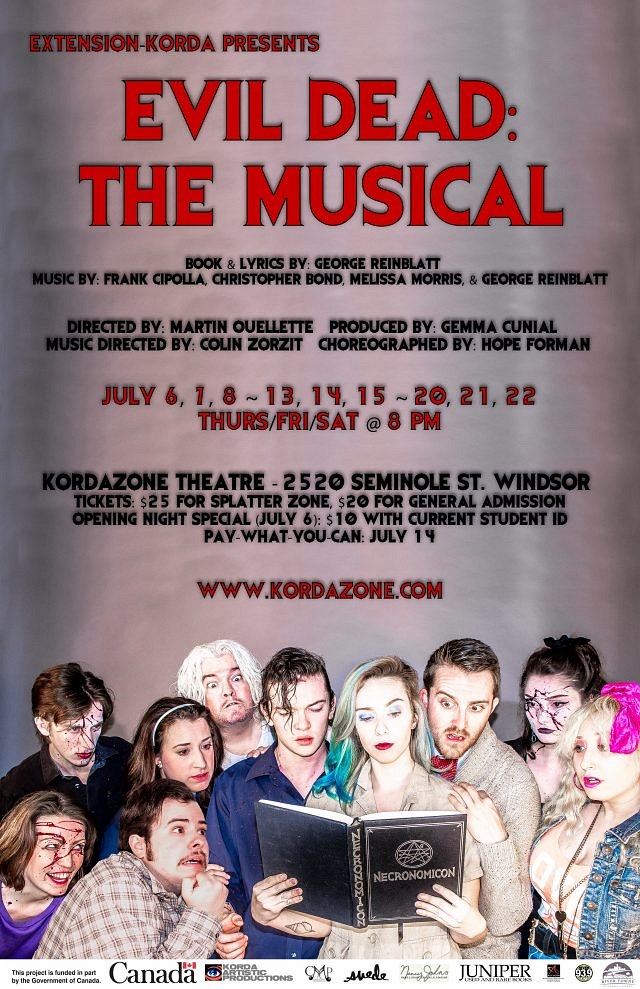 Five college students head off for spring break vacation to an abandoned cabin in the woods. There, the college students unleash a demon and only Ash (the housewares employee turned demon killer) can save world from deadites. With help from cabin owner's bad-ass Necronomicon-reading daughter, Ash must force the evil deadites back to where they come from…hell!
TICKETS
$20 (General Admission)
$25 (For Reserved Splatter Zone Seating)
SPLATTER ZONE TICKETS CAN ONLY BE PURCHASED AT THE DOOR BECAUSE OF LIMITED SEATING
OPENING NIGHT SPECIAL- JULY 6 Tickets are $10 with valid student ID
Call 519-562-3394 to reserve tickets..
If you choose to buy at the door, we suggest you arrive 1/2 hour before show time. Cash only.
Tickets can be purchased at either
Nancy Johns Gallery & Framing, 4755 Wyandotte Street East. 519-945-2222
OR
Cardinal Music, 2569-B Jefferson Boulevard. 519-944-5800
All shows start at 8PM
ADVISORY- MATURE CONTENT (crude language, gore and violence)
Location
KordaZone Theatre
2520 Seminole Street
Windsor, Ontario