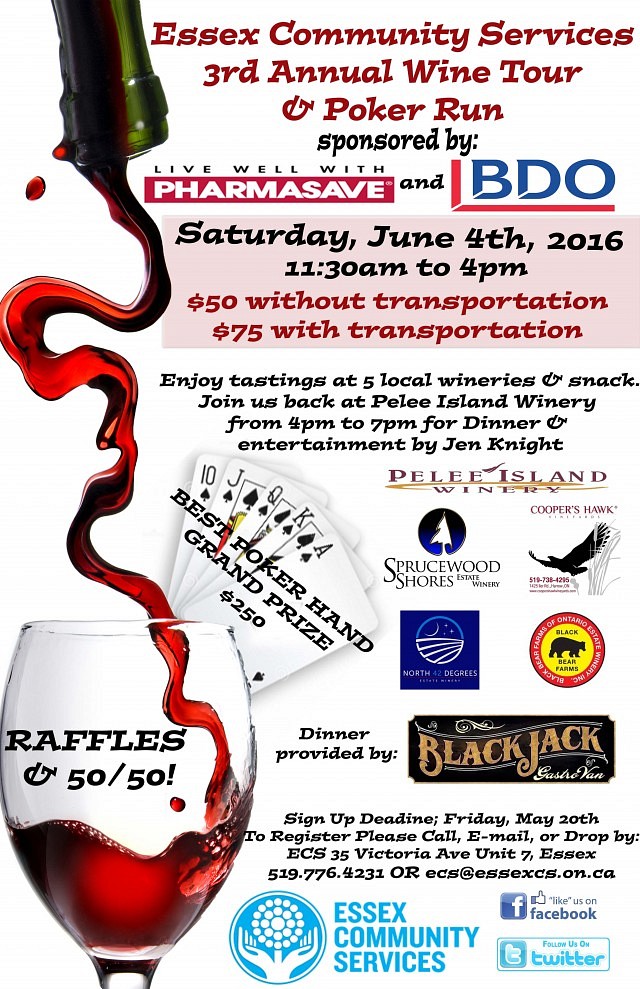 We are very excited to be working with Peelee Island Winery, who will be hosting our dinner by BlackJack's GastroVan and entertainment by Jen Knight. Along with Peelee Island Winery, participants will enjoy tastings at Sprucewood Shores Estate Winery, Cooper's Hawk Vineyards, North 42 Degrees Estate Winery, and Black Bear Farms of Ontario Estate Winery.
EVENT PRICE
$50 per person with own transportation
OR
$75 per person if transportation provided (spaces limited)
Each participant will have an opportunity to win the Grand Prize of $250.00 for the best poker hand!
REGISTRATION
Registration forms and payment must be submitted to Essex Community Services no later than FRIDAY, MAY 20th, 2016 at 4:00pm.
Cash or Cheques only and made payable to Essex Community Services, 35 Victoria Ave., Essex, ON, N8M 1M4
Registrations forms are available at our office, on our website www.essexcs.on.ca or visit our Facebook page.
For more information please call 519.776.4231
Location
Essex Community Services
35 Victoria Avenue Unit 7
Essex, Ontario