Electronic Waste & Aluminum Can Recycling Event
Date
Saturday April 22nd, 2023
Time
See Description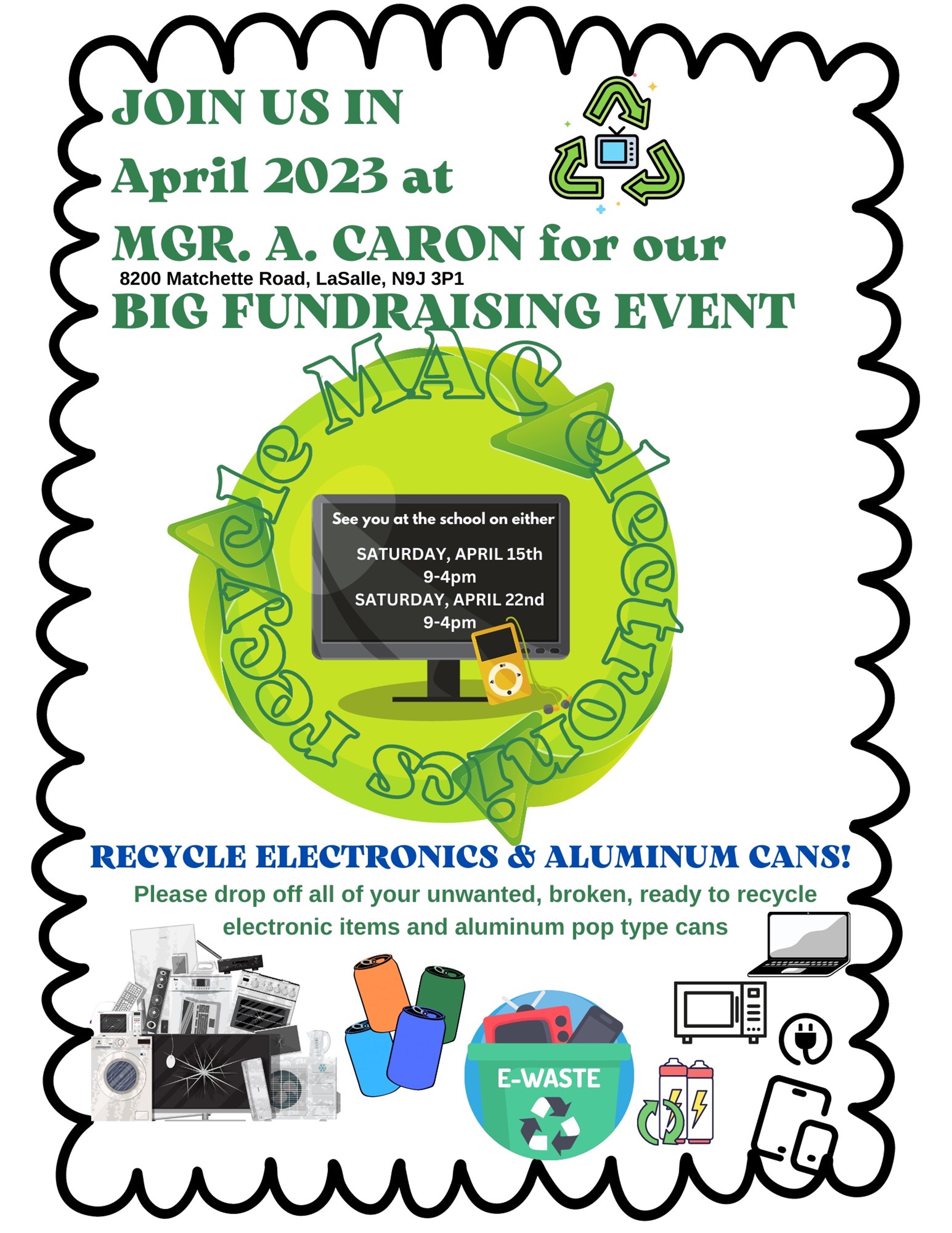 Doing some spring cleaning? Keep electronic waste out of the landfill by bringing us your used, old and unwanted electronics and help us fundraise for our school! Monseigneur Augustin Caron Elementary School will be holding two Electronic Waste and Aluminum Can Recycling events on Saturday, April 15th and 22nd, 2023.
The events will take place from 9:00am to 4:00pm at MAC, located at 8200 Matchette Rd, Windsor. Residents of Windsor and Essex County are invited to bring their used, old, broken, and unwanted electronics and aluminum beverage cans to Monseigneur Augustin Caron (MAC) School. Residents can drop off items such as computers/laptops, VCRs, DVD players, printer/fax machines, video games, cell phones, radios, TVs, microwaves, toasters, curling irons, hair dryers and electric toothbrushes (essentially, anything with a plug will be accepted).
The following items will not be accepted: • CDs, DVDs, VHS Tapes, Floppies or cases • Glass –blender cups, coffee glass, light bulbs in lamps. • Lithium batteries • Fridges, air conditioners (i.e., nothing with Freon) • Laundry appliances • Stoves
Thank you for your support!
Content Continues Below Local Sponsor Message
Content Continues Below Local Sponsor Message
Content Continues Below Local Sponsor Message