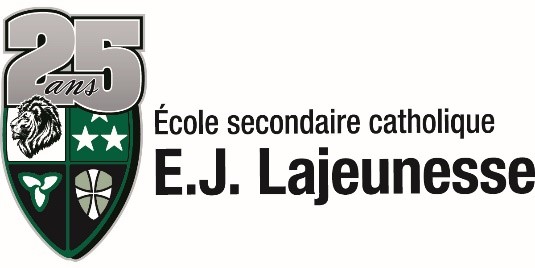 To underline the 25th anniversary of École secondaire catholique E.J. Lajeunesse in Windsor, E.J. Lajeunesse high school together with the French Catholic School Board Providence, is organizing a weekend reunion from Friday, May 22nd ,2015 till Sunday, May 24th,2015 at E.J. Lajeunesse high school.
Invited are all those who have attended the school as a student , staff member, or have been involved in any capacity in the creation of the first catholic French high school in the city of Windsor.
For this occasion, a cocktail party, a commemorative ceremony, an open house, a BBQ , fireworks and a mass are only some of the planned festivities.
The cost to participate is 40$ and tickets can be purchased on the site listed below.
For further information please visit the web site: CscProvidence.ca/25eEJL
Maryse Baillairgé Reunion Coordinator
École secondaire catholique E.J. Lajeunesse
519-972-0071 ext. 421
[email protected]
Location
École secondaire E.J. Lajeunesse
600 E C. Row Avenue
Windsor, Ontario