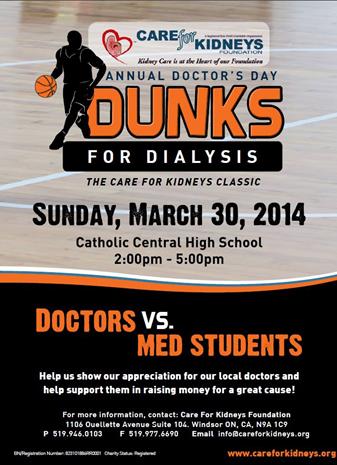 The Care for Kidneys Foundation is a non-profit charitable organization that was established in 2012. Our foundation is dedicated to improving the health and quality of life of patients living with kidney disease and of those at risk of developing kidney disease.  Visit our website at http://careforkidneys.org/home.html
Our annual Dunks for Dialysis Fundraiser is taking place at Catholic Central High School from 2-5pm on Sunday, March 20, 2014; Doctor's Day! Local doctors and medical students will be facing off in a basketball game to help benefit patients with kidney disease. Our Mayor, Eddie Francis will be there to present a proclamation from the City of Windsor recognizing local physicians on Doctor's Day for their contribution to our community. The CEO of Windsor Regional Hospital, David Musyj will be the honorary captain of the doctor's team and Dr. Mark Awuku, the assistant dean at the Schulich school of medicine, Windsor campus will be the honorary captain of the medical student team. The president of the Essex County Medical Society, Dr. Jowan Perry will also be present to represent our local physicians.
Everyone is invited to attend this great event so tell your family and friends!
Individuals interested in volunteering should contact Sheeva Nakhaie or Fawn Vellinga at [email protected] or by phone at 519-946-0103. Volunteers will be assisting with several tasks including handing out prizes, set up and take down, spirit coordination and of course watching the game!
Location
Catholic Central High School
441 Tecumseh Road East
Windsor, Ontario