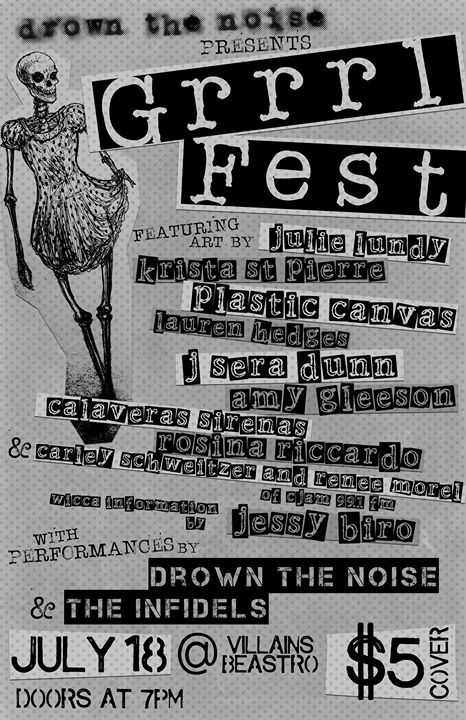 Grrrl Fest is an event presented by the band Drown the Noise. This event is for the local female artists of Windsor to show off their creative works!
There will be a variety of artists showcasing their work followed by local female inclusive bands later in the night.
To many times have I heard people say "I don't know of any local female inclusive artists/bands". It's time to change that! Lets show the world our creativity! No more hiding in the shadows!
Grrrl Fest will start at 7
Bands go on at 9:30
This event will be 5$ at the door, the first hour of the event will be free!
Artists included in this event are:
Julie Lundy's Art by: Julie Lundy
Krista St Pierre's Art art by: Krista St. Pierre
Plastic Canvas by: Stephanie McKay
Photography by: Lauren Hedges
A Wicca Information Booth by: Jessy Biro
J. Séra Dunn art/photography by: Jes Dunn
Creative Works by Amy by: Amy Gleeson
Calaveras Sirenas by: Paige Irene
Cjam 99.1 FMs: Carley Schweitzer and Renee Morel
Zine: Rosina Riccardo
Welcome Centre Shelter for Women
Photography by Amy Pelow
Musical Performances by:
Zarasutra (acoustic)
@[NjQyMTgzOTU5MjA4MTA3Omh0dHBzXGEvL3phcmFzdXRyYS5iYW5kY2FtcC5jb20vcmVsZWFzZXM6Og==:@[NjQyMTgzOTU5MjA4MTA3Omh0dHBzXGEvL3phcmFzdXRyYS5iYW5kY2FtcC5jb20vcmVsZWFzZXM6Og==:https://zarasutra.bandcamp.com/releases]]
Holly Giannoccaro (acoustic)
https://pulledfrompanels.bandcamp.com/releases
The Infidels
@[NjQyMTgzOTU5MjA4MTA3Omh0dHBzXGEvL3RoZWluZmlkZWxzcm9jay5iYW5kY2FtcC5jb20vYWxidW0vbGl2aW5nLW9mZi10aGUtbGlnaHRzLWFuZC1zb3VuZHM6Og==:https://theinfidelsrock.bandcamp.com/album/living-off-the-lights-and-sounds]
Drown The Noise
@[NjQyMTgzOTU5MjA4MTA3Omh0dHBcYS8vd3d3LmRyb3dudGhlbm9pc2UuYmFuZGNhbXAuY29tLzo6:@[NjQyMTgzOTU5MjA4MTA3Omh0dHBcYS8vd3d3LmRyb3dudGhlbm9pc2UuYmFuZGNhbXAuY29tLzo6:www.drownthenoise.bandcamp.com]]
Location
Villains Beastro
256 Pelissier Avenue
Windsor, Ontario