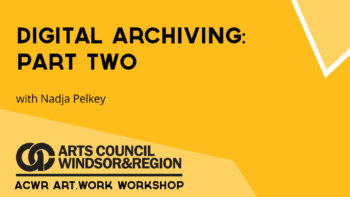 WHEN: Part 1. Wednesday, February 27th @ 6:30pm
WHERE: Arts Council Windsor & Region, ArtSpeak Gallery
COST: $10 for ACWR members, $15 for non-members, $20 for membership + workshop
FACILITATOR: Nadja Pelkey
Digital Archiving Pt. 2
Editing Digital Files, Archives, and Exhibition Materials
Learn how to format your digital files for multiple uses (applications, website, print publication) with free software. No photoshop necessary. This workshop is geared towards artists who don't use photoshop as part of their practice, and want to learn about alternatives.
In this workshop we will cover:
-Editing files for size, colour correction, and basic retouching
-Formatting and saving digital files as an archive
-File types and sizes for different applications
-Preparation of exhibition materials (Vinyl print files)
-Physical Archive, how to store your printed materials, publications, reviews, etc
Workshop Suitable for:
Visual Arts, Musicians, Theatre, Dancers, Authors
Attendees Should bring:
A computer loaded with GIMP (software) and digital images of their work/performances/selves. (If they don't have a computer all notes will be available online through ACWR and they should be prepared to take notes).
Schedule:
6:30pm – Intro & Discussion / Presentation of files & file types and their applications
7:00pm – Editing files / Saving files
7:45pm – Digital Archive Management / Physical Archive example
8:00pm – Preparing a digital file for vinyl cutting
Location
Arts Council Windsor & Region, ArtSpeak Gallery
1942 Wyandotte st. E
Windsor, Ontario