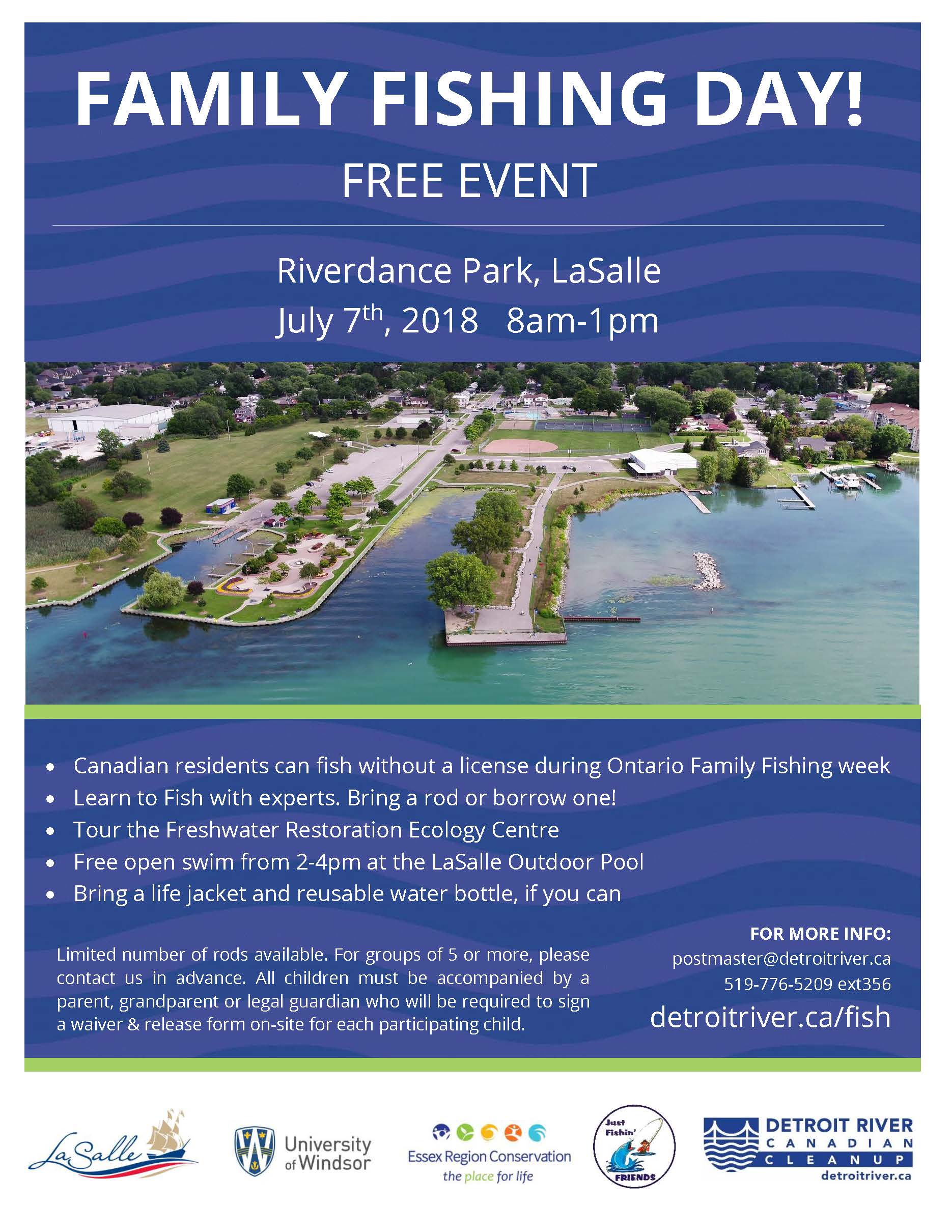 In partnership with the University of Windsor and the Town of LaSalle, the Detroit River Canadian Cleanup is hosting a Learn to Fish event! This event takes place during Ontario Family Fishing Event week when residents can fish in Ontario waters without the mandatory license. Join expert anglers from Just Fishin' Friends for a fun morning on the river. Fishing equipment will be available for public use for free and there will be displays, giveaways, prizes, and more!
Participants are encouraged to bring their own rods (if they have them), folding chairs, a hat, sunscreen/bug spray, reusable water bottle, snacks and plenty of patience while waiting for a bite!
Event Location: Riverdance Park, Front Road, LaSalle.
Date and Time: July 7th 2018, 8am – 1pm.
Limited number of fishing rods available. For groups of 5 or more please contact us in advance.
All children must be accompanied by a parent, grandparent or legal guardian who will be required to sign a waiver and release form on site for each participating child.
Calling All Anglers!
Are you an experienced angler who is willing to volunteer some of your time teaching young children and families how to fish? Consider signing up as an 'Expert Angler' during the Detroit River Family Fishing Day! Please contact us at [email protected]
Contact
Gina Pannunzio
Detroit River RAP Assistant
Detroit River Canadian Cleanup
Address: Suite 311, 360 Fairview Avenue West, Essex, Ontario, Canada N8M 1Y6
Phone: (519) 776-5209 Ext. 245
Cell: (519) 982-DRCC (3722)
E-mail: [email protected]
Website: http://detroitriver.ca/
Location
Riverdance Park
Front Road
LaSalle, Ontario