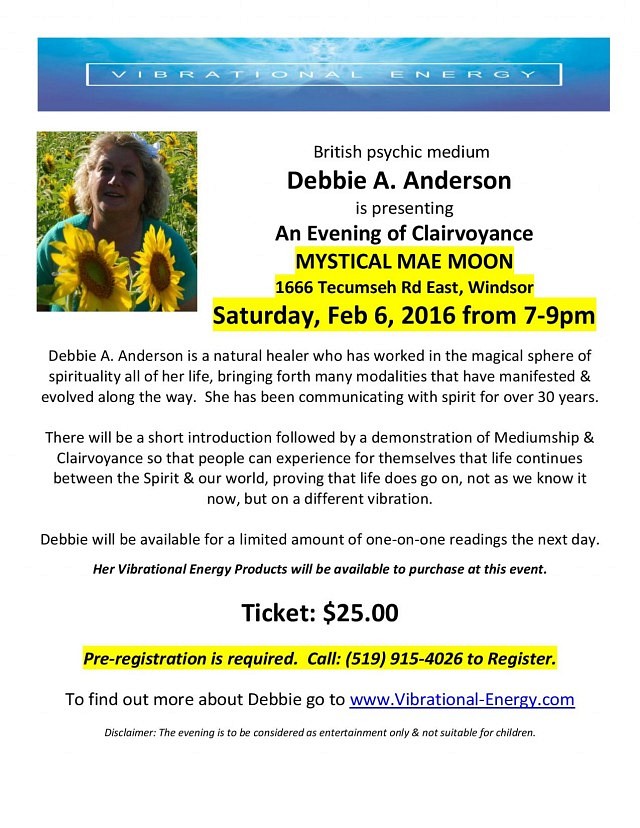 Debbie A. Anderson is a natural healer who has worked in the magical sphere of spirituality all of her life, bringing forth many modalities that have manifested & evolved along the way. She has been communicating with spirit for over 30 years.
There will be a short introduction followed by a demonstration of Mediumship & Clairvoyance so that people can experience for themselves that life continues between the Spirit & our world, proving that life does go on, not as we know it now, but on a different vibration.
Debbie will be available for a limited amount of one-on-one readings the next day.
Her Vibrational Energy Products will be available to purchase at this event.
Ticket: $25.00
Pre-registration is required. Call: (519) 915-4026 to register.
To find out more about Debbie go to:
www.Vibrational-Energy.com
Disclaimer: The evening is to be considered as entertainment only & not suitable for children.
Location
Mystical Mae Moon
1666 Tecumseh Road East
Windsor, Ontario