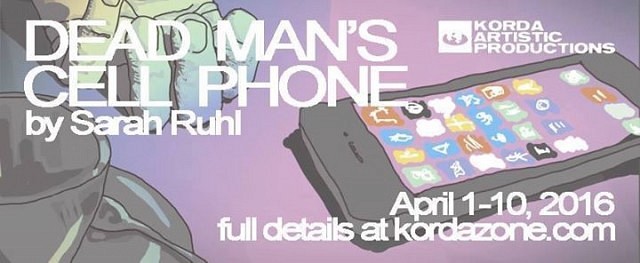 Korda Artistic Productions presents
DEAD MAN'S CELL PHONE
Written by: Sarah Ruhl (In The Next Room or The Vibrator Play & Eurydice).
Directed by: Janis Nickleson.
Produced by: Robert Godden.
WEEKEND # 1:
Friday April 1, 2016. 8PM. Opening Night.
Saturday April 2, 2016. 8PM.
Sunday April 3, 2016. 2PM. Matinee.
WEEKEND # 2:
Thursday April 7, 2016. 8PM. Pay-What-You-Can Performance.
Friday April 8, 2016. 8PM.
Saturday April 9, 2016. 8PM.
Sunday April 10, 2016. 2PM. Closing Matinee.
TICKETS:
Call 519-562-3394.
$15 (General Admission).
$12 (Seniors).
$10 (Students).
SYNOPSIS: An incessantly ringing cell phone in a quiet cafe. A stranger at the next table who has had enough. And a dead man – with a lot of loose ends. So begins Dead Man's Cell Phone, a wildly imaginative new comedy by MacArthur "Genius" Grant recipient and Pulitzer Prize finalist, Sarah Ruhl, author of Eurydice and In The Next Room or The Vibrator Play. A work about how we memorialize the dead – and how that remembering changes us – it is the odyssey of a woman forced to confront her own assumptions about morality, redemption, and the need to connect in a technologically obsessed world. The play was awarded the Helen Hayes Award for Outstanding New Play.
"… a beguiling comedy… in which the surface illogic of dreams is made meaningful – made truthful – by the deeper logic of human feeling." – New York Times.
"Satire is her oxygen… In her new oddball comedy… Sarah Ruhl is forever vital in her lyrical and biting takes on how we behave." – Washington Post.
THE CAST:
Carly Morrison-Hart as Jean
George Spelvin as Gordon
Michael K. Potter as Dwight
Cindy Lee Kok as Mrs. Gottlieb
Michele Legere as Hermia
Cindy Triolet Pastorius as Other Woman / Stranger
THE CREW:
Janis Nickleson Director
Robert Godden Producer & Front of House
Misty Habib Stage Manager
Ellie Csepregi Assistant Director
Michael Haggert Technical Crew
Elizabeth Xu Poster Art
James Atin-Godden Composer
Eric Smith Fight Director
Christopher Lawrence-Menard Website, Program & Marketing.
SHOW SPONSORS:
Suede Productions.
Allegra Print + Mail Downtown Windsor.
Cardinal Music Productions.
93.9FM The River.
Nancy Johns Gallery & Framing.
Juniper Used & Rare Books.
Location
Kordazone Theatre
2520 Seminole Street
Windsor, Ontario