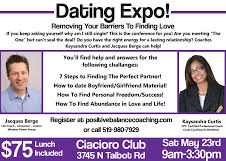 Removing Your Barriers To Finding Love
If you are asking yourself why am I still single? This is the conference for you. No Luck on online dating. Why aren't you meeting the one. You'll find your answer for the following Challenges.
7 steps to finding the perfect partner
How to date Boyfriend/Girlfriend Material
How to find Personal Freedom/success
How to find Abundance in Love and Life.
Location
Ciacioro Club
3745 North Talbot Road
Windsor, Ontario